The Asia Foundation and ODI Launch Cutting-Edge Paper on Development Entrepreneurship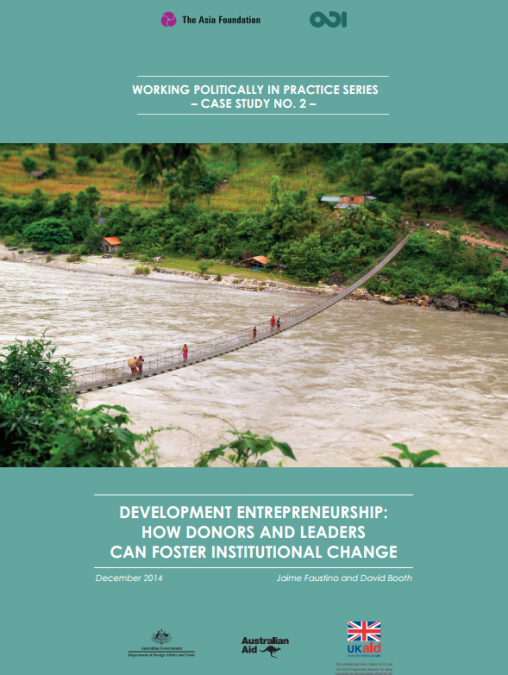 San Francisco, December 19, 2014 — The Asia Foundation and the Overseas Development Institute (ODI) launched the "Development Entrepreneurship: How Donors and Leaders can Foster Institutional Change" paper today with support from the Department of Foreign Affairs and Trade Australia (DFAT) and the UK Department for International Development (DFID). This is the second paper in the Working Politically in Practice series. Despite the growing consensus that iterative and politically informed styles of programming can often achieve high impact, donors and aid practitioners are struggling to work out how to operationalize this approach. The Asia Foundation's Program Director of Economic Reform and Development Entrepreneurship Jaime Faustino co-authored the paper together with ODI's David Booth.
A key contribution of this paper is to describe and explain one version of The Asia Foundation's approach to working politically referred to as Development Entrepreneurship. This operational model was developed initially in the Philippines and provides a coherent, evidence-based alternative to standard donor practices. The paper identifies five distinguishing features of Development Entrepreneurship and explains and discusses the rationale of each. Reform leaders – 'development entrepreneurs' – working in teams and organizations are the most important element of the method.
"Every reform we worked on had insiders who helped us understand how to unlock key parts of either the bureaucracy or the market," Faustino told ODI in a recent interview. In October, Jaime Faustino shared these insights at the "Doing Development Differently" workshop held at Harvard University hosted by ODI and the Building State Capability (BSC) program at the Center for International Development at Harvard University. Watch the full interview here.
The report concludes with a set of practical management tools and recommendations that can assist development agencies, and their counterparts, to operationalize a Development Entrepreneurship approach in their day-to-day work. Ultimately this will help improve the effectiveness of their assistance.
Read more about the Foundation and its work in the Philippines.
Read our latest news, or insights from our blog.
Media contacts
Amy Ovalle, Vice President, Global Communications
[email protected]
415-743-3340
Eelynn Sim, Director, Media & Strategy
[email protected]
415-743-3318
Leaders on the Frontlines:
Leaders for a Better World
Tuesday, November 9, 2021, 6PM PT