Asia Foundation Announces 2015 Development Fellows: Emerging Leadership for Asia's Future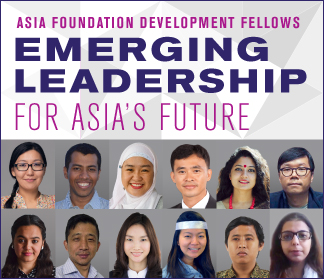 San Francisco, January 21, 2015 — The Asia Foundation today announced the 2015 class of the Asia Foundation Development Fellows: Emerging Leadership for Asia's Future. The seven women and five men are an accomplished group of change makers – talented and inspirational young professionals working in government, the nonprofit sector, social enterprises, and media representing 12 Asian countries. Across the region, a new generation of reform-minded individuals are creating impact, drawing from their experiences locally and globally. The Foundation's leadership development program, now in its second year, will bring together this network of innovators in their pursuit of creative solutions to the region's most critical development challenges.
The 2015 Development Fellows were selected from over 900 candidates from over 20 Asian countries who responded to the Foundation's October 2014 call for applicants. Representing Afghanistan, Bangladesh, Cambodia, India, Indonesia, Korea, Mongolia, Myanmar, Nepal, Pakistan, the Philippines, and Thailand, the members of the 2015 class were selected for their relevant real-world development expertise, proven community leadership, and exceptional potential. The 2015 class of Development Fellows represent a diverse mix of backgrounds and incredible records of accomplishment. They are social entrepreneurs, activists, and innovators working on issues including clean energy innovation in India, women's empowerment in Pakistan and Afghanistan, gender justice in Mongolia, and inclusive communities in Bangladesh and Indonesia. The Asia Foundation extends congratulations to each of the 2015 Development Fellows on their selection.
Meet the 2015 Development Fellows:
Sha Elijah Dumama-Alba, 33, is a Bangsamoro lawyer at the Civil Service Commission-Autonomous Region in Muslim Mindanao committed to the progress of her homeland in Cotabato City, the Philippines.
Mowmita Basak Mow, 24, is the founder and president of Center for Leadership Assistance & Promotion Foundation, developing training and mentorship programs for young leaders to serve minority communities for a more inclusive Bangladesh.
Zolzaya Batkhuyag, 30, is a gender, justice, and human rights activist; and a founder of Young Women for Change and the Women's Leadership Institute in Ulaanbaatar, Mongolia.
Terith Chy, 33, is executive officer at the Documentation Center of Cambodia (DC-Cam) in Phnom Penh, Cambodia.
Amna Waheed Durrani, 29, is a coordination officer at the Provincial Commission on the Status of Women in Peshawar, Pakistan.
Jeong Tae Kim, 36, is an award-winning social entrepreneur and innovator, and CEO and president of Merry Year Social Company in Seoul, Korea.
Seng Pan, 28, is an ethnic Kachin from northern Shan State, working with United Nations High Commissioner for Refugees as Associate Field Officer and Head of Field Unit in Bhamo, Myanmar.
Nirjan Rai, 35, is a development practitioner with expertise in the areas of policy process, economic governance, and private sector development, and is executive director of Niti Foundation in Nepal.
Kornchanok Raksaseri, 35, is an acclaimed journalist and assistant managing editor overseeing foreign news for Econ News, a Thai-language economic magazine in Bangkok, Thailand.
Ritesh Singhania, 29, is a strategy officer for Avani Bio Energy in Kolkata, India.
Muhammad Joni Yulianto, 33, is a leading disability rights advocate, and the founder of the Institute for Inclusion and Advocacy of the Disabled (SIGAB) in Indonesia.
The 2015 program will include a customized Leadership Training Program in early March held in partnership with the prestigious Lee Kuan Yew School of Public Policy of the National University of Singapore; an applied Workshop on Asian Development in Nepal; a small grant of up to $5,000 for each Fellow to design a custom professional development plan or project to be implemented over the course of the year; a mentoring program that links Fellows with experienced and respected leaders who have participated in Asia's progress and growth; and, in September, a capstone two-week leadership dialogue and exchange in San Francisco and Washington, D.C. See 2014 program highlights and multimedia.
The 12-month fellowship program leverages The Asia Foundation's extensive 18-country network; its fields of expertise in governance and law, economic development, women's empowerment, environment, and regional cooperation; and deep and long-standing commitment to innovative leaders and communities across the region.
Engage with #AsiaDevFellows on Facebook and on Twitter. For media inquiries, please visit the Press Room.
Read our latest news, or insights from our blog.
Media contacts
Amy Ovalle, Vice President, Global Communications
[email protected]
415-743-3340
Eelynn Sim, Director, Media & Strategy
[email protected]
415-743-3318
Leaders on the Frontlines:
Leaders for a Better World
Tuesday, November 9, 2021, 6PM PT