60 Years of Addressing Critical Issues in Korea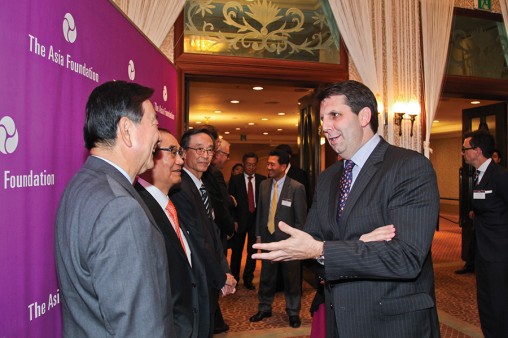 On November 6 at The Plaza Hotel in Seoul, the final 60th Anniversary event, chaired by Han Sung-joo, Hong Seok-hyun, and Kim Jin-hyun, drew nearly 300 guests throughout the day-long series of events.
Coinciding with the 10th Anniversary of Friends of The Asia Foundation in Korea, the day began with the America's Role in Asia Roundtable, sponsored by the Korean-American Association, featuring Chairman of the Board David M. Lampton as the keynote speaker. The distinguished panel included David I. Steinberg, Georgetown University; Aileen Baviera, University of the Philippines; Ren Xiao, Fudan University; Kim Sung-han, Korea University; and the Former Ambassador of Japan to the U.S., Ichiro Fujisaki. Five of Korea's former country representatives (whose tenures ranged from 1963 to 2014) also convened for a special panel. The 60th Anniversary Dinner, featuring Chairman Emeritus Michael H. Armacost giving special remarks, was attended by the recently appointed U.S. Ambassador to South Korea, Mark Lippert, in his first public appearance since starting the post.