Sir Fazle Hasan Abed to Inaugurate the Subir & Malini Chowdhury Center for Bangladesh Studies
Event: March 30, 2015, Berkeley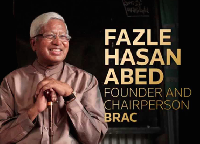 5:30pm-7 pm
University of California, Berkeley
The University of California, Berkeley's Institute for South Asia Studies invites you to the inauguration of the Subir & Malini Chowdhury Center for Bangladesh Studies at the University of California, Berkeley.
Featuring
Sir Fazle Hasan Abed, Bangladesh Social Worker, the founder and chairman of BRAC, former Asia Foundation grantee
About the speaker
Sir Fazle Hasan Abed is a social worker who started his career as finance officer at Shell Oil Company and quickly rose to head its finance division. He is the founder of world largest non government organization, BRAC. For his outstanding contributions to social improvement, he has received many awards such as the inaugural Clinton Global Citizen Award, the WISE Prize for Education, and the David Rockefeller Bridging Leadership Award. In 2012 Sir Fazle served as The Asia Foundation's Chang-Lin Tien Distinguished Visiting Fellow.
BRAC is now the largest development organization in the world within only three decades of its founding. It is also considered the largest non-profit in the world – both by employees and people served. At present, BRAC operates in more than 69 thousand villages of Bangladesh and helps about 110 million people who live below the poverty line through its development interventions that range from primary education, essential health care, agricultural support and human rights and legal services to micro-finance and enterprise development.
[email protected], (510) 642-3608
The Asia Foundation is pleased to be a promotional co-sponsor for this University of California, Berkeley Institute for South Asia Studies event. 
Change Starts Here Campaign Impact
Thank you for powering The Asia Foundation's mission to improve lives and expand opportunities.