Asia Foundation to Honor Journalist Sheryl WuDunn & Women's Rights Advocate Ranjana Kumari
March 4, 2015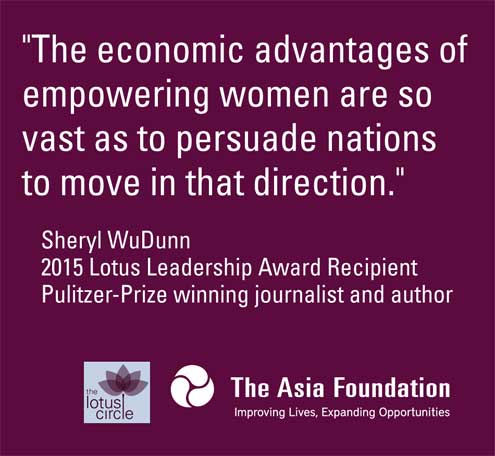 As world leaders convene next week in New York for the 59th Commission on the Status of Women, The Asia Foundation just announced that it will honor two acclaimed women leaders – Pulitzer-Prize winning journalist and author, Sheryl WuDunn, and women's rights advocate and director of India's Centre for Social Research, Ranjana Kumari – as this year's recipients of the Lotus Leadership Award on June 3, 2015, in New York City (read more about Lotus Circle).
The first Asian-American reporter to win a Pulitzer Prize, WuDunn's work contributes to a global dialogue on women's rights and helping to transform attitudes and communities around the world. WuDunn co-authored Half the Sky: Turning Oppression into Opportunity for Women Worldwide, a New York Times best-selling book about the challenges facing women around the globe, published in 2009, and most recently co-authored A Path Appears: Transforming Lives, Creating Opportunity.
As the director of the Centre for Social Research, a non-profit organization in India, long-time Asia Foundation partner, Ranjana Kumari, is dedicated to empowering women and girls and promoting women's fundamental rights, and her work directly impacts women on local, national and regional levels in an effort to enhance the capacities of individuals, communities, and institutions for creating a humane, equitable, and gender-just society. The Centre for Social Research's work will be presented at this year's Commission on the Status of Women in New York. Read a 2013 In Asia interview with Kumari from her office in Delhi.
About our blog, InAsia
InAsia
is a weekly in-depth, in-country resource for readers who want to stay abreast of significant events and issues shaping Asia's development, hosted by
The Asia Foundation
. Drawing on the first-hand insight of over 70 renowned experts in over 20 countries,
InAsia
delivers concentrated analysis on issues affecting each region of Asia, as well as Foundation-produced reports and polls.
InAsia
is posted and distributed every other Wednesday evening, Pacific Time. If you have any questions, please send an email to
[email protected]
.
Contact
For questions about
InAsia
, or for our cross-post and re-use policy, please send an email to
[email protected]
.
The Asia Foundation
465 California St., 9th Floor
San Francisco, CA 94104
Mailing Address:
PO Box 193223
San Francisco, CA 94119-3223
Leaders on the Frontlines:
Leaders for a Better World
Tuesday, November 9, 2021, 6PM PT