The Asia Foundation Announces Pulitzer-Prize Winning Journalist Sheryl WuDunn to Receive Lotus Leadership Award
San Francisco and Washington, DC, March 4, 2015 — As world leaders convene in New York for the 59th Commission on the Status of Women, The Asia Foundation's Lotus Circle, a group of committed individuals, foundations, and corporations working together to advance the rights and opportunities of women in Asia, are pleased to honor Pulitzer-Prize winning journalist and author Sheryl WuDunn, and women's rights advocate and Director of the Centre for Social Research Dr. Ranjana Kumari as this year's recipients of the Lotus Leadership Award. Now in its 5th year, the Lotus Leadership Award is presented to outstanding individuals and organizations who have made significant contributions to the well-being of women and their communities in Asia.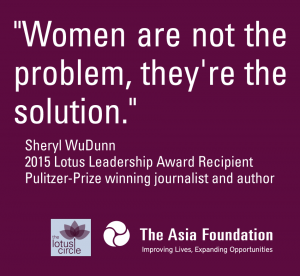 The first Asian-American reporter to win a Pulitzer Prize, Ms. WuDunn's work has contributed to a global dialogue on women's rights and is helping to transform attitudes and communities around the world. Ms. WuDunn co-authored Half the Sky: Turning Oppression into Opportunity for Women Worldwide, a New York Times best-selling book about the challenges facing women around the globe, published in 2009, and most recently co-authored A Path Appears: Transforming Lives, Creating Opportunity, a tapestry of people who are using research, evidence-based strategies, and ideas to make the world a better place. She also worked at The New York Times as both an executive and journalist: as editor for international markets, energy and industry; as The Times' first anchor of an evening news headline program for a digital cable TV channel, the Discovery-Times; and as a foreign correspondent for The Times in Tokyo and Beijing.
A long-time Asia Foundation partner, Dr. Kumari has worked tirelessly to promote women's political participation, combat domestic violence, and advocate for gender equality as a leader on the forefront of the women's movement in India. As the Director of the Centre for Social Research, a non-profit organization in India dedicated to empowering women and girls and promoting women's fundamental rights, her work directly impacts women on local, national and regional levels in an effort to enhance the capacities of individuals, communities, and institutions for creating a humane, equitable, and gender-just society. The Centre for Social Research's work will also be presented at this year's Commission on the Status of Women, which marks the 20th anniversary of the Fourth World Conference on Women in Beijing, that set the global women's rights agenda.
Ms. WuDunn and Dr. Kumari will receive the Foundation's Lotus Leadership Award on June 3, 2015 in New York City at The Asia Foundation's 5th Annual Lotus Leadership Awards event.
The Women's Empowerment Program works to expand the rights and opportunities of women in Asia and focuses on women's political participation, their rights and personal security, and their economic opportunities.
Read more about the Women's Empowerment Program and the Lotus Circle.
Read our latest news, or insights from our blog.
Media contacts
Amy Ovalle, Vice President, Global Communications
[email protected]
415-743-3340
Eelynn Sim, Director, Media & Strategy
[email protected]
415-743-3318
Change Starts Here Campaign Impact
Thank you for powering The Asia Foundation's mission to improve lives and expand opportunities.