The Asia Foundation Partners with MoneyGram on Book Donation Initiative in the Philippines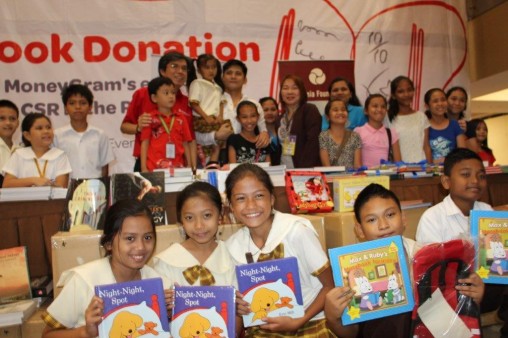 Cebu, March 4, 2015 — On February 24, 2015, The Asia Foundation partnered with the MoneyGram Foundation to deliver more than 6,000 books to 10 public elementary schools and five colleges during a celebration in Cebu. Over the past year, the MoneyGram Foundation has worked with The Asia Foundation, a non-profit international development organization, to donate more than 28,000 books to more than 30 schools throughout the country through the Books for Asia program.
"MoneyGram believes early education is at the heart of a better life through economic opportunities, healthier families, and individual freedom and empowerment and that inspiration drives the focus of the MoneyGram Foundation's work to improve education around the world," stated Alex Lim, MoneyGram's country manager. "The foundation continues to improve and restore educational access in the wake of the typhoon devastation, and we are excited to celebrate this book donation in Cebu, an area that is still in recovery."
The books and educational materials are aimed at developing children's English language skills, enhance knowledge of business, legal, and science professions, and infuse students with an early love of reading, which is critical to literacy.
The book distribution event was spearheaded by MoneyGram' country manager Alex Lim, the Foundation's Deputy Country Representative Maribel Buenaobra, and Books for Asia Program Coordinator Reynald Ocampo.
The MoneyGram Foundation focuses solely on improving education by providing access to educational facilities and learning resources for children around the world. The grant to the Books for Asia program to fund book distribution in the Philippines is just one of the many grants awarded in Asia through the Foundation.
The Asia Foundation's Books for Asia program in the Philippines provides high-quality books to all levels of education at a rate of approximately 100,000 volumes per year to more than 2,000 schools and reading centers.
Read more about the Books for Asia program and its work in the Philippines.
Read our latest news, or insights from our blog.
Media contacts
Amy Ovalle, Vice President, Global Communications
[email protected]
415-743-3340
Eelynn Sim, Director, Media & Strategy
[email protected]
415-743-3318
Change Starts Here Campaign Impact
Thank you for powering The Asia Foundation's mission to improve lives and expand opportunities.