Australian Government and Asia Foundation Award Grants for Ending Violence Against Women Program in Timor-Leste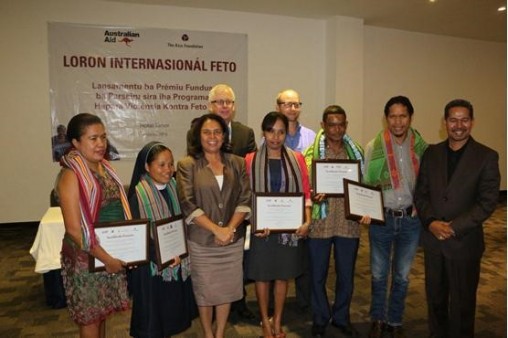 March 10, 2015 — On March 9, 2015, the Australian Government and The Asia Foundation in Timor-Leste announced grant funding through the Ending Violence Against Women program. The program supports services for women and children affected by violence, and court monitoring for cases of violence against women.
The launch of the grants coincides with International Women's Day 2015, a global event celebrating advances in gender equality, women's rights, and women's empowerment, and calling for continued action to ensure women's full enjoyment of their human rights and equal participation across all facets of society.
At the launch of the grants at Hotel Timor, Australian Ambassador to Timor-Leste Peter Doyle said the five organizations receiving funding are engaged in critical work to support women – through the provision of safe places, counselling, medical assistance and legal assistance.
"The Australian Government is proud to be funding the services provided by Casa Vida, Uma Mahon Salele, PRADET and ALFeLa. We are also proud to be supporting the important monitoring and analysis work of the Judicial System Monitoring Programme (JSMP)."
With representatives of Timor-Leste's Ministry of Social Solidarity, Secretary of State for the Support and Socio-Economic Promotion of Women, Ministry of Justice, and Ministry of Health in attendance, Deputy Country Representative for The Asia Foundation Todd Wassel noted the importance of a whole of government approach to ending violence against women.
"Our vision for the future is for a reduced number of women experiencing violence, for a broader reach of enhanced services funded overwhelmingly by a range of government agencies. A new government always brings new opportunities and there are many in this sector," said Wassel.
The Ending Violence Against Women program is a four-year intervention of up to $20 million AUD which aims to reduce the proportion of women in Timor-Leste who experience violence, and to improve well-being for women and children affected by violence. The program is working closely with government and civil society partners to improve capacities, enhance service delivery, and put local and global learnings into practice to enable greater numbers of women, men, and children to live lives free from violence. The current grant award is for $1.36 million USD.
Read more about the Foundation and its work in Timor-Leste.
Read our latest news, or insights from our blog.
Media contacts
Amy Ovalle, Vice President, Global Communications
[email protected]
415-743-3340
Eelynn Sim, Director, Media & Strategy
[email protected]
415-743-3318
Leaders on the Frontlines:
Leaders for a Better World
Tuesday, November 9, 2021, 6PM PT