Report Reveals Barriers to Access to Information on Transboundary Rivers in South Asia
March 18, 2015
By 2050, South Asia's population is expected to hit 2.2 billion, and as urban populations grow, estimates predict that all major population centers in the region will experience extreme seasonal or perennial water shortages. While the region supports more than 21 percent of the world's population, it has access to just over eight percent of global water resources, with per capita water availability decreasing by nearly 80 percent since the 1950s.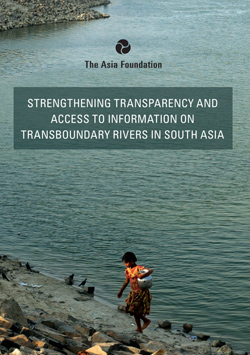 Countries across South Asia – Afghanistan, Bangladesh, Bhutan, India, Nepal, and Pakistan – depend heavily on transboundary water resources to meet their domestic water and energy needs. As the region's major transboundary rivers – the Indus, the Ganges, and the Brahmaputra – cross borders, their flows are diverted by governments for multiple purposes. Efforts at regional cooperation on these rivers remain contentious and highly constrained despite the existence of bilateral treaties and agreements. In particular, access to water and climate data and information remains quite limited. Given the history of tensions and disputes between co-riparian countries in the region, hydrological information pertaining to transboundary rivers is often regarded as sensitive and classified on the grounds of national security. Moreover, where data are available, they are often of poor quality, inadequate, and difficult to verify. In the absence of an open data environment, there are limited opportunities for governments and other non-state actors to develop a shared and holistic understanding of transboundary river basins. A greater exchange of information among co-riparian countries related to the use and management of transboundary rivers is critical to long-term cooperation and effective management of shared resources.
In the wake of a global movement in the last decade toward greater transparency and accessibility of environmental information, governments in the region have taken some preliminary steps toward disclosing water and climate data. NGO- and civil society-led information-gathering initiatives have also expanded the volume of water and climate data in the public domain. The proliferation of freedom-of-information or right-to-information laws throughout South Asia has also provided citizens and civil society organizations with new means to access government data and information.
Against this background, The Asia Foundation has just released a major new report that examines the availability and accessibility of data and information related to three transboundary rivers in Bangladesh, India, and Nepal. The study, which is a result of a 15-month assessment conducted with support from the Skoll Global Threats Fund, and in partnership with the World Resources Institute and civil society organizations in Bangladesh, India, and Nepal, highlights barriers preventing the sharing of water and climate information between governments, among departments and ministries within governments, and with the public, and provides regional and country-level findings and recommendations to improve access to information on transboundary water issues in South Asia.
Download the full report, and stay tuned in next week's blog for further analysis from report authors Sagar Prasai and Mandakini D. Surie.
About our blog, InAsia
InAsia
is a bi-weekly in-depth, in-country resource for readers who want to stay abreast of significant events and issues shaping Asia's development, hosted by
The Asia Foundation
. Drawing on the first-hand insight of renowned experts,
InAsia
delivers concentrated analysis on issues affecting each region of Asia, as well as Foundation-produced reports and polls.
InAsia
is posted and distributed every other Wednesday evening, Pacific Time. If you have any questions, please send an email to
[email protected]
.
Contact
For questions about
InAsia
, or for our cross-post and re-use policy, please send an email to
[email protected]
.
The Asia Foundation
465 California St., 9th Floor
San Francisco, CA 94104
Mailing Address:
PO Box 193223
San Francisco, CA 94119-3223
Support Women Forest Defenders
Join us this holiday season to help untapped leaders like Sumini and the Women Forest Defenders battle rampant deforestation in Indonesia.