ASEAN Integration: An Economic Community in 2015?
Event: Wednesday, April 8, 2015, Washington, DC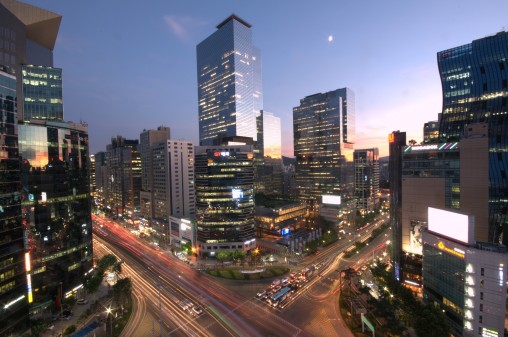 3:00-5:00 PM
Washington, DC
Featuring:
Edmund W. Sim, Partner, Appleton Luff/Adjunct Associate Professor, National University of Singapore
Robert C. Beckman, Associate Professor, National University of Singapore
Natalie Y. Morris-Sharma, Deputy Senior State Counsel, Attorney General's Chambers in Singapore and Counsellor, Permanent Mission of the Republic of Singapore to the UN
Discussant:
Véronique Salze-Lozac'h, Senior Director, Economic Development and Chief Economist, The Asia Foundation
Moderator:
John Brandon, Director, Regional Cooperation, The Asia Foundation
Economic integration, embodied in the Economic Community pillar of the Association of Southeast Asian Nations (ASEAN) is one of three key pillars that form the Roadmap for an ASEAN Community — in part envisioning a single economic entity by 2015. Difficulties in implementing the Political-Security and Socio-Cultural Pillars could, in some instances, be attributed to a variety of geo-political factors including differing forms of government, religion and customs, or proximity. While these factors could also be attributed to difficulties facing the implementation of the Economic Community, a new book by Stefano Inama and Edmund Sim, The Foundation of the ASEAN Economic Community, argues that the inconsistent nature of the process is a result of a lack of regulators and supranational institutions. Edmund Sim will explore what has worked for other multilateral institutions such as the European Union and the North American Free Trade Agreement and identify potential solutions for ASEAN. Robert Beckman will describe how researchers are working together through the National University of Singapore's ASEAN Integration Through Law project to examine how the rule of law will help achieve a unified ASEAN Community.
Please RSVP to Ms. Ellie Matthews at [email protected] or call (202) 588-9420.
Edmund W. Sim is a partner at Appleton Luff and an Adjunct Associate Professor at National University of Singapore Law School, where he created the world's first course on ASEAN Economic Community (AEC) law. He also maintains a blog on the AEC and has served as a visiting lecturer at Universitas Pelita Harapan law school in Jakarta, lecturing on the AEC. Mr. Sim has represented companies in dealing with the AEC and served as a consultant to the ASEAN Secretariat. Mr. Sim is co-author (with Stefano Inama) of two books on the AEC published by Cambridge University Press, The Foundation of the ASEAN Economic Community and Rules of Origin in ASEAN.
Robert Beckman is director of the Centre for International Law (CIL) and head of its program in Ocean Law and Policy. He heads the CIL Research Projects on Submarine Cables and Law of the Sea and on International Maritime Crimes. He is also an associate professor in the National University of Singapore (NUS) Faculty of Law. He currently teaches Public International Law and Ocean Law & Policy in Asia. He also teaches a module on International Law & Singapore Law in the first year compulsory course, Singapore Legal System. In addition to his current subjects, he has taught International Legal Process, International Regulation of Shipping, Maritime Security & International Law, Marine Environmental Law, Space Law & Policy and United Nations Law.
Natalie Y. Morris-Sharma is Counsellor (Legal) at the Permanent Mission of the Republic of Singapore to the UN in New York, and Deputy Senior State Counsel with the International Affairs Division of Singapore's Attorney-General's Chambers. Natalie is Singapore's representative on the Sixth Committee, which is the primary forum for the consideration of legal questions in the UN General Assembly. She also advises the Government of Singapore on public international law issues, including regional trade and investment agreements involving ASEAN and EU. She is co-author of From Treaty-Making to Treaty-Breaking: Models for ASEAN External Trade Agreements.
Véronique Salze-Lozac'h is The Asia Foundation's director of Economic Development. She is an economist with a strong political science background, who joined The Asia Foundation in 2003, after working for both the public and the private sector on private sector development, business environments and policy reforms. In her current position she oversees strategic planning for the Foundation's economic programs and is responsible for overseeing and providing technical support to programs in the Foundation's 18 offices in Asia. In this role she supports Asian initiatives to enhance economic governance to accelerate and sustain inclusive economic growth and broaden economic opportunities.
John J. Brandon is the senior director of The Asia Foundation's Regional Cooperation programs, as well as the associate director of the Washington, DC office, Brandon managed the Foundation's quadrennial "America's Role in Asia" project in 2004 and 2008, which examines U.S.-Asian relations in-depth and made recommendations on U.S. policy. His other responsibilities include monitoring U.S. policy toward the Asia-Pacific region and managing program activities in Washington. In 2007-2008 he participated in the Stanley Foundation project, "New Power Dynamics in Southeast Asia."
Change Starts Here Campaign Impact
Thank you for powering The Asia Foundation's mission to improve lives and expand opportunities.