2015 Asia Foundation Development Fellows Embark on Year-Long Fellowship in Singapore and Nepal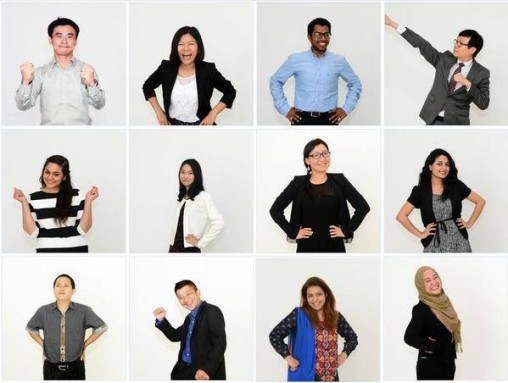 Singapore and Nepal, March 30, 2015 — This month, The Asia Foundation hosted the 2015 class of the Asia Foundation Development Fellows: Emerging Leadership for Asia's Future program in Singapore and Nepal. Coming together for the first time as a community of young change makers representing 12 countries, the 2015 Development Fellows participated in leadership workshops and engaged with development innovators and practitioners in developing Asia. View slideshow here.
Now on its second year, the Development Fellows program recognizes and empowers a dynamic community of rising young Asian leaders – NGO and civil society leaders, government officials and policymakers, social entrepreneurs, journalists, environmentalists, and academics – in their pursuit of creative solutions to the region's most critical development challenges. The members of the 2015 class represent Afghanistan, Bangladesh, Cambodia, India, Indonesia, Korea, Mongolia, Myanmar, Nepal, Pakistan, the Philippines, and Thailand. Learn more about them here.
The 2015 program commenced in Singapore with an opening reception at the Hotel Jen hosted by Asia Foundation President David D. Arnold. Guests included the Foundation's Singapore board and leading members from Singapore's diplomatic, academic, business and philanthropic communities. The program featured remarks by Ong Keng Yong, former Secretary General of ASEAN, and Kishore Mahbubani, current Dean of the Lee Kuan Yew School of Public Policy.
In Singapore, the Development Fellows took part in an intensive four-day leadership training workshop held in partnership with the Lee Kuan Yew School of Public Policy of the National University of Singapore, with a focus on strategic thinking and decision-making. The interactive sessions were led by Philip Merry, founder and chief executive officer at the Global Leadership Academy, and featured faculty of Lee Kuan Yew School of Public Policy, who worked with the Development Fellows on developing critical perspectives and best practices in leadership and management.
Following the leadership workshops in Singapore, the Development Fellows traveled to Nepal, to observe development challenges and innovations taking place in the country.
Program highlights include:
A country briefing by Dr. George Varughese, Asia Foundation Country Representative, and a discussion on gender, justice and equality in Nepal with Nandita Baruah, Asia Foundation Deputy Country Representative, and Sapana Pradhan Malla, Senior Advocate of Nepal's Supreme Court and renowned leading women's rights activist;
A discussion on the Maoist Movement in Nepal with Aditya Adhikari, noted author of "The Bullet and the Ballot Box";
A "Youth in Action" forum and reception presented by the Foundation and the Global Shapers Community of Kathmandu – a group of young, innovative Nepali leaders, including 2014 Development Fellow Jaya Luitel; CEO of Teach for Nepal, Shisir Khanal; and World Economic Forum Global Shapers' Curator of the Kathmandu Hub, Amod Rajbhandari, among others;
A briefing by Jamie McGoldrick, United Nations Resident Coordinator in Nepal, and discussion with leaders from Nepali non-profit the Niti Foundation, Himal Southasian Magazine, and Independent Power Producers' Association Nepal;
A visit to observe Foundation-supported community mediation activities and training programs in Dhikur Pokhari.
This fall, the Development Fellows will take part in a leadership dialogue and exchange program in San Francisco and Washington, DC with a series of programs, policy discussions, and leadership development activities to build international perspectives and networks of support and inspiration, and to reaffirm the unique bonds and shared commitment established among the cohort.
Read more about the Foundation and engage with us on Twitter with #AsiaDevFellows
Read our latest news, or insights from our blog.
Media contacts
Amy Ovalle, Vice President, Global Communications
[email protected]
415-743-3340
Eelynn Sim, Director, Media & Strategy
[email protected]
415-743-3318
Leaders on the Frontlines:
Leaders for a Better World
Tuesday, November 9, 2021, 6PM PT