The Asia Foundation Hosts Connecting Basins: Reflections on the Mekong-Ganga Dialogue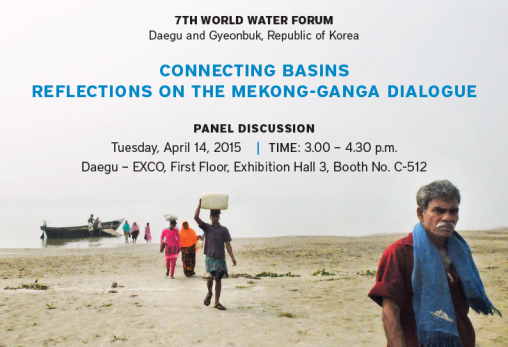 Daegu, South Korea, April 10, 2015 — On April 14 The Asia Foundation will host Connecting Basins: Reflection on the Mekong-Ganga Dialogue at the 7th World Water Forum in Korea. The event features: Dipak Gyawali, former Minister of Water Resources, Government of Nepal and Chairperson for the Nepal Water Conservation Foundation; John Dore, Senior Regional Water Resources Specialist, Australian Embassy; and Tu Dao Trong Tu, Director for Sustainable Water Resources Development and Adaptation to Climate Change (CEWAREC), Vietnam.
The Mekong-Ganga Dialogue (MGD) is an inter-regional dialogue initiated by the New Delhi-based think tank Observer Research Foundation (ORF) and the Mekong Program on Water, Environment and Resilience (M-POWER), Laos, in 2012. The initiative seeks to promote the sharing of experiences, practices and knowledge between experts and practitioners from two of the major river basins in the world – the Mekong and Ganga. Since its inception in 2012, the MGD has met consecutively for the last three years.
Most recently, ORF and M-Power, with the support of The Asia Foundation convened the third MGD dialogue in New Delhi in December 2014. Over the past three years, the dialogue has successfully created networks of relationships between academics, policy makers and civil society organizations in both basins, to share knowledge, experiences and best practices on a range of issues in these basins including for example, regional cooperation, sustainable development, climate change and adaptation.
Read more about the Foundation and its work in Environment.
2019 Lotus Leadership Awards Dinner
Wednesday May 29, 2019, San Francisco
Honoring Jennifer Cabalquinto, CFO of the Golden State Warriors, and Lana Condor, Actor and Philanthropist
2019 Lotus Leadership Awards Gala
Wednesday, May 29, 2019, San Francisco