The United Nations at 70: A Conversation with Secretary-General Ban Ki-Moon
Event: Friday, June 26, 2015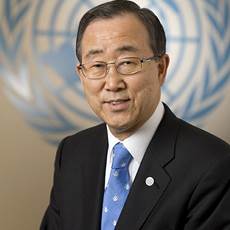 Hosted by:

Bechtel Conference Room
Encina Hall
June 26, 2015 3:00 PM – 4:00 PM
Secretary-General Ban Ki-moon's visit will highlight the 70th anniversary of the founding of the UN, part of a larger trip to the Bay Area to commemorate the San Francisco Conference, where the charter establishing the UN was signed in 1945. After his speech, he will participate in a question and answer session with Asia Foundation Trustee Ambassador Kathleen Stephens, the U.S. ambassador to the Republic of Korea (2008-11).
RSVP required by 5:00 PM on June 24.
Seating is first come, first served.
Media must pre-register by 9 a.m. on June 25. Please direct media inquiries to Ms. Lisa Griswold, [email protected].
Promotional co-sponsors:
Change Starts Here Campaign Impact
Thank you for powering The Asia Foundation's mission to improve lives and expand opportunities.