The Asia Foundation Releases Findings of Annual Survey on Perceptions and Knowledge of Corruption (SPEAK)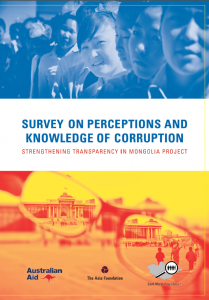 Ulaanbaatar, June 23, 2015 — The Asia Foundation, in collaboration with Sant-Maral Foundation, released the results of its sixteenth Survey on Perceptions and Knowledge of Corruption (SPEAK) in Mongolia, a nationwide survey of citizens in rural soums, aimags, and the capital city Ulaanbaatar, supported by Australia's Department of Foreign Affairs and Trade.
Building on the earlier semi-annual benchmarking survey under The Asia Foundation's  Mongolian Anti-Corruption Support project, the SPEAK survey presents important nationwide perceptions of corruption at the household level, captures data on citizens' perceptions of corruption, their actual experience of corruption at the household level, and grand corruption.
Conducted in April, 2015 SPEAK surveyed 1,360 households in eight districts of Ulaanbaatar and in 22 soums of six aimags. Survey revealed that more than a quarter of respondents (27.4 percent) were optimistic that corruption would decrease in the next three years. This is a decrease from 52.5 percent of respondents with this view in September 2013. Also, for the first time, political corruption is emerging as a strong concern. Three of the five institutions deemed most corrupt are political: political parties, national government, and Parliament. National government ranked at the top for the first time since 2006.
SPEAK is one of a few regular, nationwide surveys in Mongolia, and its results are widely cited and used by civil society and government organizations. It provides a unique and robust tool for government policymakers and civil society groups to raise awareness and educate the public. According to Sant Maral Foundation's Chief Executive Officer, Mr. Sumati L., "The SPEAK survey is the most welcomed by respondents among those we have conducted in recent years. It shows that the issues covered in this survey are of high importance to our society."
Known from 2006 to 2011 as the Mongolia Corruption Benchmarking Survey, it was renamed SPEAK in 2012. Due to the longitudinal design of the survey, the survey provides long-term changes and trends in perceptions and attitudes, and new information on citizen views on grand corruption. The Foundation believes that the survey triggers invigorated and critical dialogues on issues of transparency, accountability, and corruption in Mongolia.
In 2012, The Asia Foundation also introduced a complementary report, the Study of Private Perceptions of Corruption (STOPP) to better gauge over time the perceptions of Mongolian private sector actors. Currently, the Foundation is also conducting a set of detailed, in-depth studies focusing on mining, trade and service, manufacturing and construction to better understand the root cause of corruption in the private sector. Both survey results will be released in fall of 2015.
SPEAK 2015 Survey key findings:
Positive evaluations of the Independent Authority Against Corruption (IAAC's) performance have been decreasing, from 29.4 percent in September 2013 to 22.6 percent in March 2014, and to 16.6 percent in April 2015.
Campaign finance at various stages of the electoral process is expected to be one of the biggest concerns in the upcoming 2016 Elections. Slightly over half (53 percent) expect that campaign finance will be "not at all" fair and transparent.
Since 2012, the most popular way to fight corruption has been strong enforcement measures.
Among recent initiatives by state institutions to reduce corruption, respondents ranked "introduction of new technology" highest in both importance and effectiveness. Almost two thirds of respondents (71.6 percent) rated it as "significantly" or "extremely" important, and over half of respondents (62.2 percent) rated it as "significantly" or "extremely" effective.
The most widely cited reasons for grand corruption in Mongolia were lack of transparency at high levels of government (19.5 percent) and merging of business and political interests (19.1 percent).
The survey is available for download here and on the Sant Maral Foundation website.
The Asia Foundation is a nonprofit international development organization committed to improving lives across a dynamic and developing Asia. Informed by six decades of experience and deep local expertise, our programs address critical issues affecting Asia in the 21st century—governance and law, economic development, women's empowerment, environment, and regional cooperation.
Read more about the Foundation's work in Mongolia.
For media inquiries, please visit the Press Room. Engage with us on Facebook, Twitter, and Instagram.