The Asia Foundation Releases Report on Economic Dimensions of Domestic Violence in Timor-Leste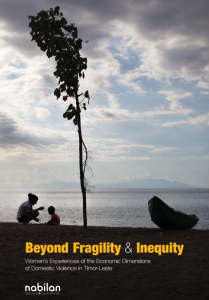 Dili, July 13, 2015 — The Asia Foundation released new research exploring the economic dimensions of domestic violence at the Timor-Leste Studies Association (TLSA) Conference being held in Dili on July 10. The research was conducted by the Foundation with funding from the UK Department for International Development (DFID) and published under the Nabilan: Ending Violence Against Women program, an Australian Government-funded initiative which aims to reduce the proportion of women who experience violence, and improve well-being for women and children who have been affected by violence in Timor-Leste.
The report, Between Fragility and Inequity: Women's Experiences of the Economic Dimensions of Domestic Violence in Timor-Leste, has critically examined assumptions around domestic violence in Timor-Leste, particularly the assumption that a woman will be financially worse off after separating from an abusive partner. Using a combination of focus group discussions, participatory rural appraisals, and semi-structured interviews, a total of 339 respondents participated in the research, from the three districts of Baucau, Covalima and Dili.
A primary purpose of the research was to examine (and if needed, challenge) assumptions relating to women's economic dependency on their husbands, a perception that has been a factor in many sentencing decisions on domestic violence. In many instances, domestic violence cases have been treated very lightly, with courts frequently suspending a prison sentence or substituting it with a fine in cases where the defendant is found guilty. These decisions have often been couched in terms of concerns for the victim, inasmuch as she is assumed to be dependent on her husband's income, and thus likely to be disadvantaged if her husband is sent to prison.
Speaking at the conference, Foundation representatives Sophia Cason and Diana Fernandez drew on key findings from the research. They noted that domestic violence can come with severe economic consequences for women, problems which may be further exacerbated within the structure of Timor-Leste's economy which remains gendered and unequal. Women in Timor-Leste are much more heavily engaged in the domestic sphere, and involved in diverse, low-level income generation in the informal economy, with often limited access to public spaces. According to Ms. Fernandez, this means that many women in Timor-Leste may find themselves relatively immobile, and fearful that disruptions in their routine may leave them and their children with no safety net.
Interviews with women who had experienced severe forms of abuse and who had separated from their husbands revealed that two thirds of the women felt that their financial situation had actually improved. This knowledge will be critical in ensuring that program interventions and government policy related to domestic violence in Timor-Leste are adequately addressing the challenges that women in abusive relationships face. In particular, this information can help better inform judges ruling on domestic violence cases perhaps reducing the number suspended or 'light' sentences in domestic violence cases. The information in this report can also help NGOs in program design and implementation related to service delivery and economic empowerment for victims of domestic violence.
The Asia Foundation is a nonprofit international development organization committed to improving lives across a dynamic and developing Asia. Informed by six decades of experience and deep local expertise, our programs address critical issues affecting Asia in the 21st century—governance and law, economic development, women's empowerment, environment, and regional cooperation.
Read more about the Foundation's work in Timor-Leste.
For media inquiries, please visit the Press Room. Engage with us on Facebook, Twitter, and Instagram.
Read our latest news, or insights from our blog.
Media contacts
Amy Ovalle, Vice President, Global Communications
[email protected]
415-743-3340
Eelynn Sim, Director, Media & Strategy
[email protected]
415-743-3318
Change Starts Here Campaign Impact
Thank you for powering The Asia Foundation's mission to improve lives and expand opportunities.