Trans-Pacific Partnership: Impacts on the US Economy
July 15, 2015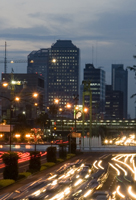 The Trans-Pacific Partnership (TPP), a trade agreement being negotiated among 12 countries, including the US, has sparked a long, heated debate across the globe. Some key areas in the agreement include: intellectual property rights, telecommunications, state-owned enterprises, investment, labor and environmental standards. On July 20 in San Francisco, The Asia Foundation co-sponsors a discussion about the projected near and longer-term economic and other benefits of the TPP, and why the TPP has become the centerpiece of President Obama's global trade agenda. Learn more.
About our blog, InAsia
InAsia
is a weekly in-depth, in-country resource for readers who want to stay abreast of significant events and issues shaping Asia's development, hosted by
The Asia Foundation
. Drawing on the first-hand insight of over 70 renowned experts in over 20 countries,
InAsia
delivers concentrated analysis on issues affecting each region of Asia, as well as Foundation-produced reports and polls.
InAsia
is posted and distributed every other Wednesday evening, Pacific Time. If you have any questions, please send an email to
editor.inasia@asiafoundation.org
.
Contact
For questions about
InAsia
, or for our cross-post and re-use policy, please send an email to
editor.inasia@asiafoundation.org
.
The Asia Foundation
465 California St., 9th Floor
San Francisco, CA 94104
Mailing Address:
PO Box 193223
San Francisco, CA 94119-3223