The Second Green Revolution Has Begun: Rice, Food Security, and Climate Change
Event: Wednesday, July 29, 2015, San Francisco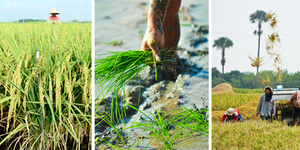 11:30 a.m. to 1:30 p.m.
The Asia Foundation
Haydn Williams Conference Room
465 California Street, 8th floor
San Francisco, CA
Please join us for a program with the distinguished Dr. Robert Zeigler, world expert on rice and food security and Director General of International Rice Research Institute (IRRI). Rice is a staple in the diet of more than two billion people and is enjoyed by billions more around the world. It is also a fragile resource, impacted by a host of challenges including the need to increase production exponentially in order to meet growing demand in a time of climate change that severely impacts growing conditions.
Hosted by The Asia Foundation
Sponsored by California-Asia Business Council (Cal-Asia)
Co-sponsors & supporters: California Rice Commission, US Department of Commerce, California Chamber of Commerce
About Dr. Robert Zeigler:
Dr. Zeigler is an internationally respected plant pathologist with more than 30 years of experience in agricultural research in the developing world. He is the director general of IRRI. As director general, Dr. Zeigler is the chief executive officer (CEO) of IRRI, who directly manages and administers its affairs in accordance with the policies and decisions of the board of trustees. As CEO and in close consultation with the IRRI Board of Trustees, he sets the Institute's strategic direction. He is also a passionate spokesperson on a wide range of issues that affect rice growers and consumers worldwide.
As a friend of The Asia Foundation, click here to register at the "member" rate of $15 by July 27, 2015.
Change Starts Here Campaign Impact
Thank you for powering The Asia Foundation's mission to improve lives and expand opportunities.