The Asia Foundation China Participates in UNOCHA World Humanitarian Day Event in Beijing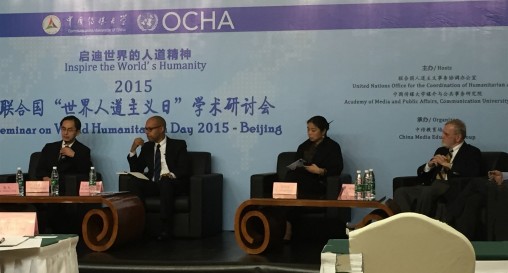 August 21, 2015 — The Asia Foundation China office's Senior Advisor, Mr. Allen C. Choate, participated in a panel discussion at the United Nations World Humanitarian Day event held in Beijing on August 19. Organized by the United Nations Office of Coordination for Humanitarian Affairs (UNOCHA) and hosted by the China Communications University, the day's presentations and discussion explored ways in which China's global humanitarian aid, especially disaster relief, can be expanded and improved.
Coming soon after the disastrous explosion in Tianjin and the devastating earthquake in Nepal in April, much of the panel discussion focused on the experiences gained and lessons learned by Chinese emergency responders, especially for many Chinese NGOs who had never engaged in international relief efforts prior to the Nepal disaster. Mr. Choate described how The Asia Foundation assisted those Chinese NGOs by immediately dispatching a pair of technical advisors to Nepal to help those NGOs coordinate with the larger international relief effort. Other panelists including senior representatives from the UNOCHA, the China Earthquake Administration, the One Foundation and Coca-Cola China shared their experiences and views on the Nepal relief effort as well. Other presentations at the day's events were given by the UN Resident Coordinator ad interim and the Director General of the Department of Foreign Aid, China Ministry of Commerce.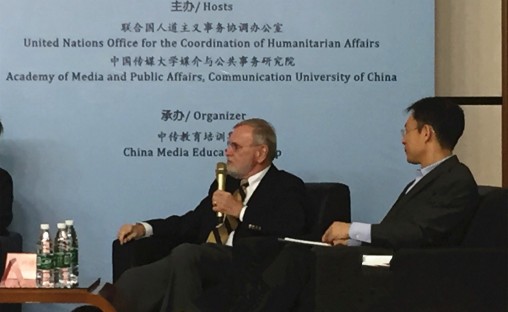 Beijing is one of six cities world-wide in 2015 to commemorate the UN World Humanitarian Day, along with New York, Geneva, Milan, Dubai and Istanbul. From its inception in 2009 the UN World Humanitarian Day has sought to celebrate the spirit of humanitarian work and encourage greater international humanitarian efforts. The aim of World Humanitarian Day in 2015 is to inspire and empower people around the world to get involved and share a greater sense of responsibility for one another.
Since 2005 The Asia Foundation's China program has partnered with numerous Chinese government agencies, universities and NGOs to build more effective disaster-preparedness and response capabilities, especially at the community level. More recently the focus of this assistance and cooperation has expanded to include capacity building for Chinese foundations and NGOs to become more qualified providers of international humanitarian aid, and to facilitate exchanges between Chinese disaster planning and training institutions and their counterparts in the Asia-Pacific region.
The Asia Foundation is a nonprofit international development organization committed to improving lives across a dynamic and developing Asia. Informed by six decades of experience and deep local expertise the Foundation's programs address critical issues affecting Asia in the 21st century. Key among those issues is the need to advance regional cooperation, including in the area of humanitarian assistance.
Read more about the Foundation's work in China.
For media inquiries, please visit the Press Room. Engage with us on Facebook, Twitter, and Instagram.
Read our latest news, or insights from our blog.
Media contacts
Amy Ovalle, Vice President, Global Communications
[email protected]
415-743-3340
Eelynn Sim, Director, Media & Strategy
[email protected]
415-743-3318
Change Starts Here Campaign Impact
Thank you for powering The Asia Foundation's mission to improve lives and expand opportunities.