Asia Foundation and Vietnam Women's Union Host Workshop on Women's Political Participation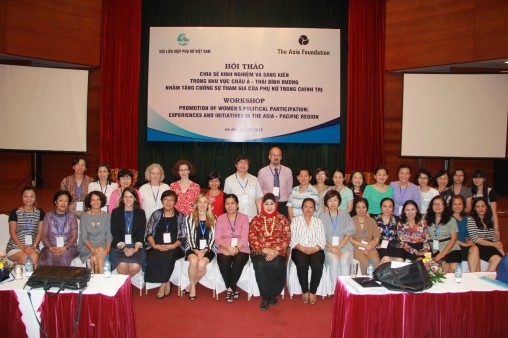 Hanoi, September 2, 2015 — Recently, The Asia Foundation and the Vietnam Women's Union held a workshop on empowering women to participate in the political process across the Asia-Pacific region. More than 70 Representatives from the National Assembly of Vietnam, relevant government agencies, political party, international organizations, gender-focused organizations and researchers from Vietnam and other countries in the Asia-Pacific gathered in Hanoi to discuss initiatives and solutions to encourage more women to work in politics and political governing bodies.
Opening the workshop, the President of Vietnam Women's Union, Mme. Nguyen Thanh Hoa reaffirmed that "gender equality in politics and women's participation in decision making are crucial factors to promote gender qualities in all fields and promote sustainable development of a country."
The workshop featured keynote speeches and four panel discussions by 19 experts from Vietnam, Cambodia, Indonesia, the Philippines, South Korea, Australia, the Unites States, and UNDP in Vietnam. Experts and panelist exchanged views and shared initiatives from states, governments and CSOs on how to increase the number of women in parliament and councils, as well as how to support women to take on more successful leadership roles. The workshop also provided an opportunity for participants to discuss roles and responsibilities of gender-focused organizations and government agencies in promoting and ensuring gender equality in people-elected bodies and state management agencies.
Dr. Michael DiGregorio, the Foundation's Country Representative in Vietnam highlighted four main arguments for increased women's political participation in his opening remarks: "The justice argument claims that women have a right to half of the seats in national assemblies since they make up half of the population; the experience argument holds that women have different experiences, either biologically or socially constructed, that should be represented as well; the interest argument grants that women and men have different interests and that these interests cannot be represented by men only; and the symbolic argument says that every female politician acts a role model for all women, regardless of political views or party membership and will attract other women to the political arena."
The discussion produced a number of concrete policy recommendations fighting gender inequality and promoting women's political participation, including: removing barriers in retirement ages; making significant change in the school curriculum; setting guidelines for media to cover the elections; providing more support for women candidates, providing greater guidance to women candidates from Women's Union; and having a long term approach to building the capacity of young women leaders.
The discussions at the workshop will become the basis for the Vietnam Women's policy proposal to the Party Central Committee, NA Standing Committee, and National Election Committee in Vietnam.
The Asia Foundation is a nonprofit international development organization committed to improving lives across a dynamic and developing Asia. Informed by six decades of experience and deep local expertise, our programs address critical issues affecting Asia in the 21st century—governance and law, economic development, women's empowerment, environment, and regional cooperation.
Read more about the Foundation's work in Vietnam.
For media inquiries, please visit the Press Room. Engage with us on Facebook, Twitter, and Instagram.
Leaders on the Frontlines:
Leaders for a Better World
Tuesday, November 9, 2021, 6PM PT