New Study of Migrant and Child Labor in the Thai Seafood Industry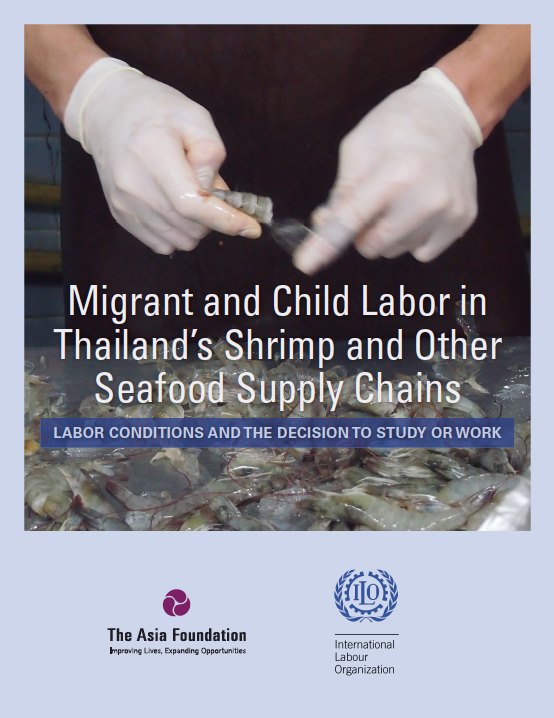 Bangkok, September 13, 2015 — A new study by the International Labour Organization (ILO) and The Asia Foundation reveals the physical hazards and other vulnerabilities faced by migrant child workers in Thailand's shrimp and seafood processing industries.
Drawing on a combination of fresh research and existing material from the ILO's work in Thailand, the study – Migrant and Child Labor in Thailand's Shrimp and Other Seafood Supply Chains: Labor Conditions and the Decision to Study or Work – addresses a variety of issues, including workplace safety and education, that affect the social and economic position of migrant workers, particularly those from Myanmar. The report recommends a series of practical policy measures and other actions that could be taken by government, industry, and civil society—independently and in cooperation—to ensure safer working environments for workers of legal working age; improved working conditions for all workers irrespective of their legal status in Thailand; and improved access to education for children that are required by law to be in school rather than working.
According to the joint report released in Bangkok today, children in the multi-billion dollar shrimp and seafood processing industrial hubs of Thailand were more frequently exposed to workplace hazards than those working in other industries, and twice as likely to sustain injuries. Earlier research commissioned by the ILO had observed that nearly 1 in 10 children under 18 were in child labor in these areas. Migrant children in these industries also work longer hours on average than Thai children (6 hours per week longer). Only one-quarter of working children in shrimp and seafood processing aged 15-17 were aware of child labour laws, and nearly 65 percent of those workers did not enjoy the legal protection of a contract.
One-third of migrant children in the shrimp and seafood industries do not attend school, due to a combination of challenges and constraints that include household debt, childcare commitment for siblings, and parental mobility. While all children in Thailand have access to education, regardless of their registration status, the children of undocumented migrants were less likely to enroll in school, with low incomes leaving families less able to meet the supplementary expenses involved. The research suggests that migrant parents who believed they would remain in Thailand for an extended period were more likely to send their children to school.
The report also found significant differences in adherence to labor standards and oversight between processing operations that were part of export-oriented value chains and those for the domestic Thai market. For example, the highly consolidated and export-focused canned tuna industry is characterized by stricter monitoring mechanisms and labor standards due in part to pressure from overseas buyers driving the industry to achieve and maintain high quality labor and environmental standards. By contrast, the Thai shrimp industry is very diverse, with great variation in levels of compliance with labor standards. The dispersion of industry actors has made it very difficult for Thai government authorities to regulate all parts of the production chain.
Mr. Maurizio Bussi, Officer-in-Charge of the ILO's Country Office for Thailand, Cambodia and Lao PDR, stated: "Child labour is truly unacceptable in the 21st century. Unfortunately, it remains a symptom of existing labour market governance challenges, coupled with a lack of genuine alternatives for vulnerable workers and their families to freely avail of. The push and pull factors have to be better understood. Unquestionably, a concerted and well-coordinated multi-stakeholder response is critical to tackle labour standards violations, such as child labour, in this highly complex supply chain."
Mr. Kim McQuay, The Asia Foundation's Country Representative for Thailand added: "Migrant workers fill an important workforce gap in a sector of tremendous importance to the Thai economy. For migrant children, and particularly those that are undocumented, physical security, awareness and enforcement of legal rights and protections under Thai labor law, and access to legally guaranteed education entitlements, must shift from aspiration to reality."
The report makes a number of recommendations, including:
The Thai government's commitment to provide equal treatment with regard to labour protection under the Labour Protection Act (1998), regardless of nationality and legal status, should be widely disseminated.
The establishment of a regional mechanism for improved regional value chain management in the shrimp and seafood sector—comprising government, the private sector (including producers, and domestic and international buyers), international organizations, and NGOs—would provide a platform for best practices in management and improved labour conditions across the value chain.
International buyers should be more vigilant and engage more directly with their suppliers to help them implement international standards, including for labor.
To support better integration of migrant students into formal Thai schools, school administrators should transition migrant children into classrooms with Thai children who are close to their own age, rather than requiring migrant children to begin in first grade, regardless of age.
Establish school-based vocational training programs for children aged 13-14 as a strong incentive for parents to keep their children in school and to enhance the employment opportunities available at the working age of 15.
The full report can be downloaded at: asiafoundation.org/MigrantChildLaborStudyTH
The Asia Foundation is a nonprofit international development organization committed to improving lives across a dynamic and developing Asia. Informed by six decades of experience and deep local expertise, our programs address critical issues affecting Asia in the 21st century—governance and law, economic development, women's empowerment, environment, and regional cooperation.
Read more about the Foundation's work in Thailand.
For media inquiries, please visit the Press Room. Engage with us on Facebook, Twitter, and Instagram.
Read our latest news, or insights from our blog.
Media contacts
Amy Ovalle, Vice President, Global Communications
[email protected]
415-743-3340
Eelynn Sim, Director, Media & Strategy
[email protected]
415-743-3318
2022 Impact Report
Thank you for powering The Asia Foundation's mission to improve lives and expand opportunities.