Asia Foundation Development Fellows to Present Critical International Development Challenges and Potential Solutions in Washington DC Forum
San Francisco, September 23, 2015 — The Asia Foundation Development Fellows, an inspiring group of innovative change makers working on the most pressing development challenges and supported by the Foundation's year-long leadership advancement program that draws on the international nonprofit's 18-country network and expertise – will present "Asian Perspectives 2015: Challenges and Voices for Asia's Future" in Washington, DC, on Monday at the Carnegie Endowment for International Peace.
The Washington, DC, forum is the culmination of an outstanding year of skill, leadership, and network building for the Fellows—and a unique two-week capstone in the U.S. designed to inspire and prepare the 2015 class of change makers for the vital roles they are playing in their respective countries. During the Forum, the Fellows will deliver insights and comment on their personal, impassioned quests and journeys for Asia's social and economic progress. The event will be live streamed here.
At a special dinner with The Asia Foundation Board of Trustees the night before President David A. Arnold will screen a new and moving short film about the Fellows, shot on location this summer in Manila and Mindanao, Philippines and Seoul, Korea. Asia Foundation Chairman David M. Lampton and the Foundation's distinguished and notable Trustees and Officers will be in attendance and will engage with the Fellows.
In Washington, DC, and New York City, the Fellows are attending the Asian Architecture @ CSIS Conference at the Center for Strategic and International Studies, and the 2015 International Conference on Sustainable Development at Columbia University. The Fellows are also meeting with leaders at the USAID Global Development Lab, and with Clinton Foundation President and CEO Donna Shalala.
The Fellows spent an immersive week in San Francisco, recognized for its vanguard entrepreneurialism and first-mover thinking and approaches to innovation. In-depth meetings with Open Government Partnership, Wikimedia Foundation, Inveneo, and the San Francisco Mayor's Office of Civic Innovation exposed the Fellows to fresh policy, technology, and innovation strategies.
In addition to the meetings, a special dinner in San Francisco was underwritten by Charles Schwab & Co. and attended by Charles Schwab Executive Vice President James D. McCool—a member of The Asia Foundation's President's Leadership Council, a diverse group of individual and corporate members who are champions and ambassadors for the nonprofit's vision of a peaceful, just and thriving Asia. Mr. McCool spoke at the Foundation's 60th Anniversary Gala in 2014 in San Francisco, which Charles Schwab & Co. served as Lead Sponsor. The new film was screened for guests who commented on its inspiring and urgent themes.
In the film, Emerging Leaders Shaping Asia's Future, Mr. Arnold points out that none of the Fellows have chosen what he calls a safe or comfortable path: "The common thread that connects the Fellows is their passion and commitment to addressing some of the most critical issues and problems facing Asia today."
Mr. Arnold created the already highly regarded Asia Foundation Development Fellows program in 2014 based on the fact that despite Asia's rapid economic growth, Asian citizens are still suffering inequality and instability. During the Foundation's 60th Anniversary, he remarked that for six decades, The Asia Foundation has improved quality of life, expanded opportunities for millions, and invested in Asian leaders who have gone on to influence the course of development and history in Asia. The Asia Foundation has never sat and watched as history unfolded; instead, said Mr. Arnold: "we embolden, empower and accelerate leaders and institutions capable of transformative change and progress."
Viewers of the film journey with two change makers in the 2015 class of Asia Foundation Development Fellows.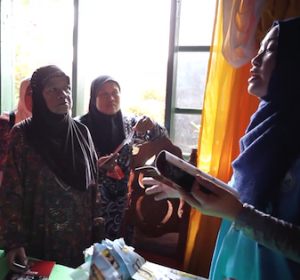 After studying law in Manila, Sha Elijah Dumama-Alba returned to her homeland of Cotabato City, where, after decades of armed conflict, the Philippine government and the Moro Islamic Liberation Front (MILF) have signed a peace deal that would create a new autonomous region—the Bangsamoro. Despite the danger to her personal safety and that of her family, Sha Elijah is active in the current peace process and deeply committed to a self-governing Muslim majority political entity. She says: "We are on the brink of realizing our dreams of a Bangsamoro that is reflective of our aspirations for self-governance and self-autonomy."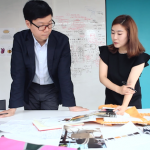 Motivated by critical issues in Korea like homelessness and record-breaking suicide rates among young people; an aging society; and the needs of newly arrived North Korean defectors, Jeong Tae Kim is the CEO of a company that empowers social entrepreneurs "changing the world." A highly dynamic thinker and connector, he believes that social enterprises created by young Koreans—businesses that prioritize human and environmental benefits equally to profits— are an answer to problems plaguing the Asian powerhouse.
If you would like to make a gift to The Asia Foundation Development Fellows and help young Asian leaders catalyze durable and inclusive social and economic progress in Asia, please click here.
Watch the film and read more about the Asia Foundation Development Fellows.
For media inquiries, please visit the Press Room. Engage with us on Facebook, Twitter, and Instagram.
Read our latest news, or insights from our blog.
Media contacts
Amy Ovalle, Vice President, Global Communications
[email protected]
415-743-3340
Eelynn Sim, Director, Media & Strategy
[email protected]
415-743-3318
Leaders on the Frontlines:
Leaders for a Better World
Highlights from the event