Asia Foundation Hosts Australian Foreign Minister Julie Bishop for Innovation Talk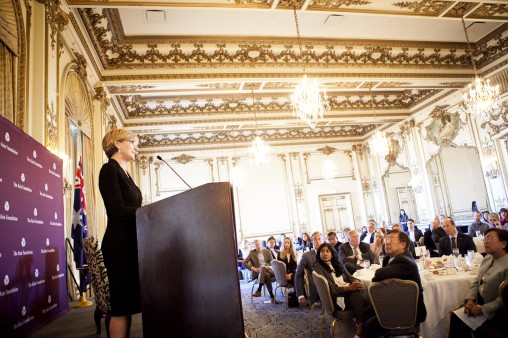 San Francisco, October 9, 2015 — Today, The Asia Foundation hosted the Honourable Julie Bishop MP, Australia's Minister for Foreign Affairs for a lively and informative discussion on innovation and technology, and how Australia's aid and development programs are transforming the way the country helps solve problems in developing Asia. Minister Bishop was joined by the Hon Kim Beazley, Ambassador of Australia to the United States, and the Hon Jeffrey L. Bleich, former United States Ambassador to Australia, and delivered remarks to 150 local business and civic leaders, philanthropists, ambassadors, and prominent members of the Bay Area community. View photos from the event.
"The Asia Foundation understands the important role that innovation can play in international development," said Minister Bishop. She continued in her remarks: "The Asia Foundation has been helping to push the boundaries of aid policy and practice throughout our region."
On the shared interest the Foundation and Australia have in the development of the Asia-Pacific region, Minister Bishop noted: "we share a commitment to common goals, including encouraging sustainable and inclusive economic growth, effective governance, women's economic empowerment and peace and stability."
For more than a decade, the Australian Government has partnered with The Asia Foundation on more than 85 development projects in 17 countries. In her remarks, Minister Bishop highlighted: "there are few NGOs that could juggle an agenda involving the Philippines peace process, industry reform in Bangladesh while working with Google and local social media entrepreneurs on elections in Indonesia."
"We share Australia's deep commitment to innovation in the development field, innovation that can improve aid effectiveness, and achieve greater impact for each dollar spent," said Asia Foundation President David D. Arnold. "We are greatly impressed by Minister Bishop's new InnovationXchange, and the many other changes she has introduced in Australia's development assistance programs."
In March, Minister Bishop launched Australia's development innovation hub, InnovationXchange, which will test and drive new and exciting technologies, ideas and partnerships that can be embedded across the Department of Foreign Affairs and Trade. Supported with $140 million over four years, particular attention will be given to leveraging new sources of financing to catalyse new approaches to development and enhance Australia's impact on the economies of the Indo-Pacific region.
The Asia Foundation is a nonprofit international development organization committed to improving lives across a dynamic and developing Asia. Informed by six decades of experience and deep local expertise, our programs address critical issues affecting Asia in the 21st century—governance and law, economic development, women's empowerment, environment, and regional cooperation.
Read more about the Foundation's work.
For media inquiries, please visit the Press Room. Engage with us on Facebook, Twitter, and Instagram
Read our latest news, or insights from our blog.
Media contacts
Amy Ovalle, Vice President, Global Communications
[email protected]
415-743-3340
Eelynn Sim, Director, Media & Strategy
[email protected]
415-743-3318
Leaders on the Frontlines:
Leaders for a Better World
Highlights from the event