2016 Asia Foundation Development Fellows: Call for Applications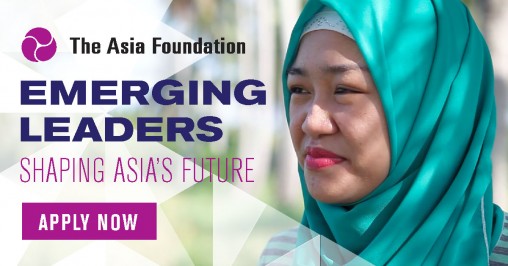 San Francisco, October 14, 2015 — The Asia Foundation launched a call for applicants for its 2016 Asia Foundation Development Fellows: Emerging Leadership for Asia's Future program. Now in its third year, the prestigious program is seeking accomplished and inspiring changemakers working on the most pressing development challenges. Applications are now accepted through December 1, 2015.
The Asia Foundation is committed to helping Asian leaders meet the challenges they face today with its Development Fellows program. The inventive program brings together an accomplished group of emerging changemakers (under 40 years of age) – NGO and civil society leaders, government officials and policymakers, social entrepreneurs, journalists, environmentalists, and academics – who are working to shape Asia's future. The year-long career advancement program is an unparalleled opportunity to cultivate leadership skills and gain in-depth knowledge of Asia's critical development challenges, while maintaining flexibility to stay in their current occupations. The program leverages the Foundation's extensive 18-country network and deep expertise working with innovative leaders and communities across the region.
The 2015 cohort of 12 Development Fellows were selected from a group of over 950 extraordinary candidates from over 20 Asian counties. A short film, Emerging Leaders Shaping Asia's Future, highlights some of the inspiring Fellows from the 2015 cohort working on the conflict in Southern Philippines, social impact projects in Korea, women's empowerment in Pakistan, human rights documentation in Cambodia, and gender justice in Mongolia.
"The common thread that connects the Fellows is their passion and commitment to addressing some of the most critical issues and problems facing Asia today," said Asia Foundation President David D. Arnold. Mr. Arnold created the already highly regarded Asia Foundation Development Fellows program in 2014 based on the fact that despite Asia's rapid economic growth, Asian citizens are still suffering inequality and instability.
The 2016 program will be commence in April in Korea with a four-day Leadership Development Workshop presented in partnership with the Korea Development Institute, and in Mongolia where the fellows will engage with leading development innovators and policy-makers. In September, the Fellows will visit San Francisco, New York City and Washington, D.C. for a two-week leadership dialogue and exchange. A flexible award of US $5,000 will be provided to each fellow.
The call for applications will close on December 1, 2015, with the selected 2016 cohort of Development Fellows to be named in mid-January. Please apply here.
The Asia Foundation is a nonprofit international development organization committed to improving lives across a dynamic and developing Asia. Informed by six decades of experience and deep local expertise, our programs address critical issues affecting Asia in the 21st century—governance and law, economic development, women's empowerment, environment, and regional cooperation.
Read more about the Foundation and its Asia Development Fellow Program.
Engage with us at #AsiaDevFellows and follow updates on Facebook, on Twitter at @Asia_Foundation, and on LinkedIn.