The Asia Foundation Releases New Paper on Innovative Monitoring Approach to Development Assistance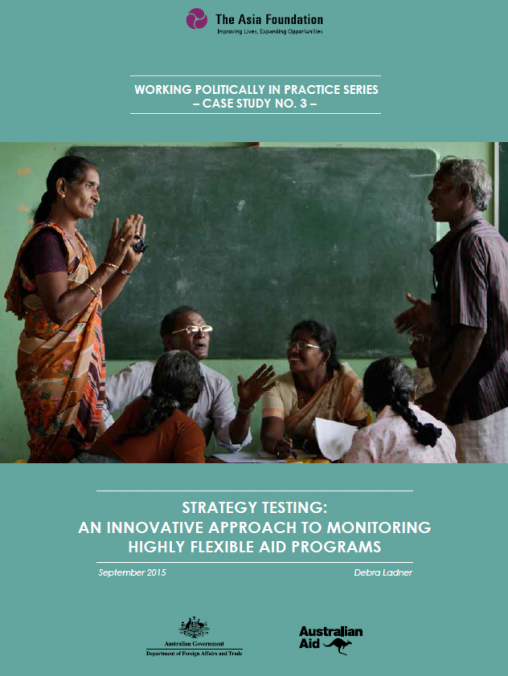 October 15, 2015 — The Asia Foundation launched a paper today, entitled Strategy Testing: An Innovative Approach to Monitoring Highly Flexible Aid Programs with support from the Australian Department of Foreign Affairs and Trade Partnership (DFAT-TAF Partnership). This is the third paper in the Working Politically in Practice series. The international development community has increasingly embraced the idea that finding durable solutions to complex development problems requires new ways of working that move beyond industry norms. The new paper makes an important contribution to the current debate by outlining an innovative monitoring system called Strategy Testing (ST).
For several decades, The Asia Foundation has been implementing development programs through a highly responsive, politically-informed, iterative 'searching' model of assistance, an approach that focuses on building relationships and expanding knowledge of the landscape of interests and influence. Variations of this approach have been an important element in the Foundation's work going back to its founding in 1954.
"This model is broadly characterized by a heavy emphasis on contextual knowledge and relationships, combined with multiple small, nuanced and carefully targeted interventions working closely with local partners," said William Cole, Senior Director of Program Strategy, Innovation and Learning at The Asia Foundation."This stands in sharp contrast to the conventional, pre-planned 'projectized' approach that has long been the standard in the development industry."
Despite the growing consensus that politically-informed styles of development programming can achieve high impact, efforts to apply this approach have been hampered by a lack of appropriate monitoring and evaluation tools. Strategy Testing was specifically developed to track programs that are addressing complex development problems through an iterative approach, which differs from traditional monitoring methods designed to track progress in linear, largely pre-planned projects. The Strategy Testing tool is of particular importance to donors who want to support politically-informed programs, but are required to balance flexibility with accountability.
The new paper provides a detailed description of the ST approach and the tools developed to facilitate the process. The Foundation has completed four cycles of ST as of August 2015, and the paper outlines key insights on what flexible programming means in practice, using examples from the Foundation's experience.
Under the institutional DFAT-TAF Partnership, The Asia Foundation is implementing program initiatives to address critical development challenges in 16 program initiatives across 10 countries. The programs are focused on diverse development challenges that range from improving urban services in Ulaanbaatar, Mongolia to achieving economic policy reform in Bangladesh.
The Asia Foundation is a nonprofit international development organization committed to improving lives across a dynamic and developing Asia. Informed by six decades of experience and deep local expertise, our programs address critical issues affecting Asia in the 21st century—governance and law, economic development, women's empowerment, environment, and regional cooperation.
Read more about the Foundation's work.
For media inquiries, please visit the Press Room. Engage with us on Facebook, Twitter, and Instagram
Read our latest news, or insights from our blog.
Media contacts
Amy Ovalle, Vice President, Global Communications
[email protected]
415-743-3340
Eelynn Sim, Director, Media & Strategy
[email protected]
415-743-3318
Change Starts Here Campaign Impact
Thank you for powering The Asia Foundation's mission to improve lives and expand opportunities.