Paper Heralds Era of a Politically Informed Approach to International Development
October 21, 2015
"To meet the learning and accountability needs of programs that are working on complex, [highly political problems a new approach to program monitoring is required that fosters real-time learning and program adaptation] based on new information, insights, and shifts in local context…" concludes The Asia Foundation's just-released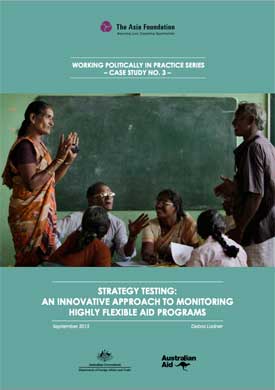 paper, Strategy Testing: An Innovative Approach to Monitoring Highly Flexible Aid Programs. The paper, developed with support from the Australian Department of Foreign Affairs and Trade-Asia Foundation (DFAT-TAF) Partnership and the third in the Foundation's Working Politically in Practice series, examines an innovative approach to monitoring, known as 'Strategy Testing' (ST), which was designed specifically to monitor highly responsive, flexible, and politically informed programs.
While variations of this approach have been important elements in the Foundation's work for several decades, more recently the DFAT-TAF Partnership has provided The Asia Foundation with the opportunity to trial, analyze, and learn from programs using this approach in real time. Despite the growing consensus that politically informed styles of development programming can achieve high impact, efforts to apply this approach have been hampered by a lack of appropriate monitoring and evaluation tools. This paper describes a new Strategy Testing system developed by The Asia Foundation under the Partnership, which was custom-designed to track programs that are addressing complex development problems through an iterative approach. ST provides an alternative to more traditional monitoring methods that track progress against pre-determined outcomes and indicators. The paper outlines key insights on what flexible programming means in practice, using examples from the Foundation's field experiences from improving urban services in Ulaanbaatar, Mongolia, to achieving economic policy reform in Bangladesh.
*This version has been edited slightly from the original.
About our blog, InAsia
InAsia
is a bi-weekly in-depth, in-country resource for readers who want to stay abreast of significant events and issues shaping Asia's development, hosted by
The Asia Foundation
. Drawing on the first-hand insight of renowned experts,
InAsia
delivers concentrated analysis on issues affecting each region of Asia, as well as Foundation-produced reports and polls.
InAsia
is posted and distributed every other Wednesday evening, Pacific Time. If you have any questions, please send an email to
[email protected]
.
Contact
For questions about
InAsia
, or for our cross-post and re-use policy, please send an email to
[email protected]
.
The Asia Foundation
465 California St., 9th Floor
San Francisco, CA 94104
2023 Leaders on the Frontlines
Join us in San Francisco on October 12, 2023, to honor Niwat Roykaew.