Asia Foundation's Jakarta Conference Explores 60 Years of South-South Cooperation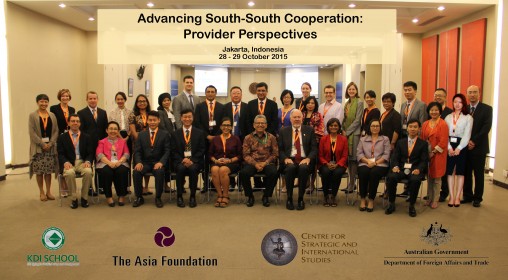 Jakarta, October 30, 2015 — South-South cooperation (SSC) is not new, nor is it a southern version of traditional aid, according to participants at a joint Korea Development Institute (KDI) School and Asia Foundation conference, Asian Approaches to Development Cooperation (AADC).
This week, government officials, policy specialists, and development experts representing more than 13 countries convened in Indonesia for the 13th meeting of the Asian Approaches dialogue, an ongoing series designed to address the development prospects and challenges facing the region.
The Jakarta conference hosted at Indonesia's Center for Strategic and International Studies (CSIS), focused on strategies to advance 21st century South-South cooperation from the provider country perspective. More specifically, it explored how the definition of SSC is evolving, how SSC is managed and governed, and how SSC is addressing global priorities such as the Sustainable Development Goals.
2015 marks the 60th anniversary of the historic 1955 Asia-Africa Conference, in Bandung, Indonesia, which laid the foundations for the cooperation and solidarity which underpins south-south cooperation today. In her keynote speech, HE Esti Andayani, Director General for Information and Public Diplomacy in Indonesia's Ministry of Foreign Affairs, referred to the Bandung conference and reflected on how far Indonesia has progressed in its SSC efforts, from knowledge sharing with Asian, Middle Eastern, and African partners on Indonesia's successful family planning scheme in the 1970's to supporting capacity building of the Palestinian state today.
As a relative newcomer to the field of SSC, Mongolia's government has established an International Cooperation Fund for sharing Mongolia's experience in democracy and market economy with emerging democracies, such as Myanmar, Kyrgyzstan, Afghanistan, and North Korea. Ambassador Jambaldorj Tserendorj, Executive Secretary of the international cooperation fund, Ministry of Foreign Affairs, noted that "the ICF is an important tool to strengthen Mongolia's role and contributions internationally as a means of diplomatic soft power policy through sharing of its experiences of transition to democracy and democratic process, expanding bilateral cooperation with countries in the region and providing development and technical support for emerging democracies."
Researchers and practitioners from Thailand, Indonesia, and the Japanese International Cooperation Agency, JICA, addressed the task of measuring and assessing the impact of SSC. Dr Siriporn Wajjwalku from Thammasat University in Thailand, commented that developing indicators is challenging because most SSC has both foreign policy and aid objectives which may differ between collaborating partners.
Countries participating at the Jakarta dialogue included: Indonesia, China, India, Thailand, Korea, Mongolia, Nepal, Cambodia, Singapore, Japan, Australia, and the US, as well as representatives from UNDP, ASEAN, and CSIS. Past years' dialogues have focused on the changing aid landscape, rising inequality and pro-poor growth, climate change mitigation and adaptation, and social mobility. The 2011-2015 meetings were convened in various Asian cities, including Beijing, Colombo, Kuala Lumpur, New Delhi, Bangkok, Hoi An, Phnom Penh, and Seoul.
The Asia Foundation is a nonprofit international development organization committed to improving lives across a dynamic and developing Asia. Informed by six decades of experience and deep local expertise, our programs address critical issues affecting Asia in the 21st century—governance and law, economic development, women's empowerment, environment, and regional cooperation. Read more about the Foundation's work.
For media inquiries, please visit the Press Room. Engage with us on Facebook, Twitter, and Instagram.
2019 Lotus Leadership Awards Gala
Wednesday, April 3, 2019, New York City
Honoring award-winning journalist Christiane Amanpour and social enterprise SafetiPin
2019 Lotus Leadership Awards Gala
Wednesday, April 3, 2019, New York City