The Asia Foundation and Australian Government Partnership Working Paper Series
San Francisco, November 19, 2015 —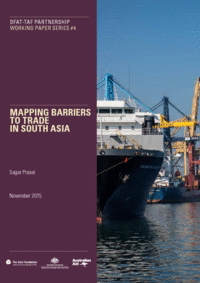 Through its partnership with the Australian Government Department of Foreign Affairs and Trade (DFAT), The Asia Foundation today launched the fourth paper in its Working Paper series. The aim of the series is to draw on and share the rich lessons being learned through the country and regional programs that are implemented under the DFAT-Foundation partnership. The partnership is a new form of collaboration aimed at supporting program and policy innovation that can improve aid effectiveness in the Asia-Pacific. The primary purpose of the partnership is to develop, test, and promote cost-effective innovations that increase the impact of development assistance and respond to the dynamic and evolving needs of the region.
The fourth paper in this series, Mapping Barriers to Trade in South Asia, examines the structural and procedural barriers to South Asian trade. In doing so, it finds many of these barriers are not as rooted in regional geopolitics as previously assumed. Instead, factors such as the lack of modernization, low investment in customs and port administration, poor quality infrastructure, and failures in governance are key reasons for poor trade facilitation. Thus, the paper encourages future trade-related interventions to address problems such as these, rather than focusing only on refining treaties and conventions.
This ongoing DFAT-Foundation Working Paper series will inform the broader international community by helping to better ground discussion in empirical evidence, advance theoretical debates, and ultimately improve development policy and practice across a variety of subject areas.
The Asia Foundation is a nonprofit international development organization committed to improving lives across a dynamic and developing Asia. Informed by six decades of experience and deep local expertise, our programs address critical issues affecting Asia in the 21st century—governance and law, economic development, women's empowerment, environment, and regional cooperation.
Read more about the Foundation's work.
For media inquiries, please visit the Press Room. Engage with us on Facebook, Twitter, and Instagram.
Read our latest news, or insights from our blog.
Media contacts
Amy Ovalle, Vice President, Global Communications
[email protected]
415-743-3340
Eelynn Sim, Director, Media & Strategy
[email protected]
415-743-3318
Change Starts Here Campaign Impact
Thank you for powering The Asia Foundation's mission to improve lives and expand opportunities.