Asia Foundation President David D. Arnold Speaks at Perth USAsia Centre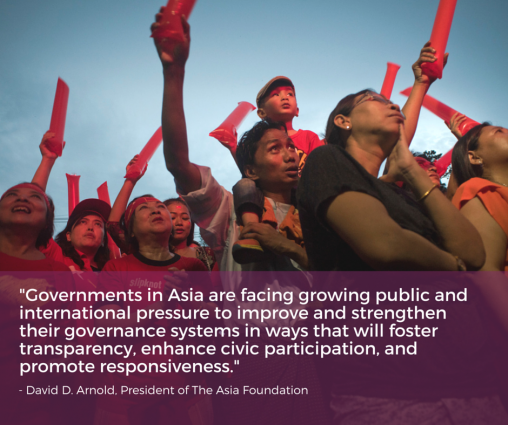 Perth, Australia, December 9, 2015 — On December 7, The Asia Foundation's President David D. Arnold and Senior Vice President Gordon Hein held a special presentation at the Perth USAsia Centre in Australia. The presentation, The Challenges and Promise of Democratic Governance in Asia, focused on free and fair elections, effective state institutions, and vibrant civil societies, and how these issues play out in Afghanistan, Sri Lanka, Indonesia, and Myanmar through the Foundation's work.
"Effective democratic governance continues to be one of the greatest challenges of the Asia-Pacific region as countries cope with the demands of the global economy and pressures from citizens for increased transparency and participation," said Mr. Arnold. "Against this backdrop, a major focus of the Foundation's work is helping Asia develop capable and effective governing institutions that can deliver essential services, protect people's rights, manage conflicts, and support sustainable economic growth."
Mr. Arnold also highlighted Foundation initiatives such as Advancing Democratic Elections and Political Transitions (ADEPT) – a joint venture among six major international development organizations to reaffirm their commitment in working with local partners worldwide, and the global international development community, to advance the democratic space.
Mr. Hein went on to highlight country programs where the Foundation supported local and national governments and NGOs and their efforts to develop responsive governing institutions and strengthen state-society relations, including the Philippines peace process, industry reform in Bangladesh, and elections in Indonesia – development programs supported by the Australian government.
For more than a decade, the Australian Government has partnered with The Asia Foundation on more than 85 development projects in 17 countries. In October, The Asia Foundation hosted the Honourable Julie Bishop MP, Australia's Minister for Foreign Affairs in San Francisco for a conversation on how Australia's aid programs are helping solve problems in developing Asia.
The Perth USAsia Centre is a non-partisan, not-for-profit institution that promotes stronger relationships between Australia, the Indo-Pacific and the United States by contributing to strategic thinking, policy development and enhanced networks between government, the private sector and academia. Under the leadership of founding CEO Gordon Flake, the Centre is based at The University of Western Australia, and works in close partnership with the United States Studies Centre at the University of Sydney, and draws on the distinctive attributes of Western Australia and its existing relationship to Asia.
The Asia Foundation is a nonprofit international development organization committed to improving lives across a dynamic and developing Asia. Informed by six decades of experience and deep local expertise, our programs address critical issues affecting Asia in the 21st century—governance and law, economic development, women's empowerment, environment, and regional cooperation.
Read more about the Foundation's work.
For media inquiries, please visit the Press Room. Engage with us on Facebook, Twitter, and Instagram.
Read our latest news, or insights from our blog.
Media contacts
Amy Ovalle, Vice President, Global Communications
[email protected]
415-743-3340
Eelynn Sim, Director, Media & Strategy
[email protected]
415-743-3318
Change Starts Here Campaign Impact
Thank you for powering The Asia Foundation's mission to improve lives and expand opportunities.