Asia Foundation and Asian Development Bank Hold Open Government Partnership Workshop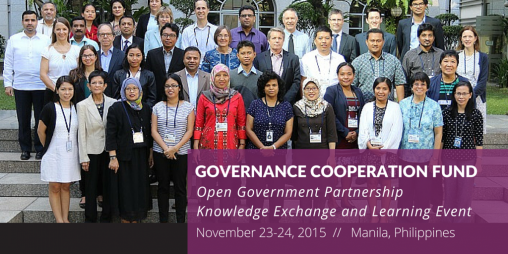 December 10, 2015 — On November 23-24, twenty-eight Asia Foundation delegates participated in the Governance Cooperation Fund – Open Government Partnership Knowledge Exchange and Learning Event at the Asian Development Bank (ADB) headquarters in Manila. The event, which was co-designed by The Asia Foundation and ADB, brought together government and civil society representatives from seven countries in Asia to exchange knowledge, good practices, and innovative approaches on a range of open government issues, including: asset disclosure, right to information, transparent budgeting, and open data. Foundation officials were joined by experts from ADB, The World Bank, USAID, KINERJA, and the Open Government Partnership (OGP).
The Foundation's Acting Director of Governance and Law Ellen Boccuzzi opened the first day with a discussion of OGP's potential for bringing together civil society and government at the national, regional, and global levels to improve governance across Asia. Delegates from Mongolia, Indonesia, Sri Lanka, India, Bangladesh, Philippines and Timor-Leste then engaged in participatory discussions aimed at developing strategies for advancing the key open government objectives in their own countries – from passing new legislation, to becoming eligible for OGP, to advancing the openness agenda through the next OGP National Action Plan.
"Broad participation [in the OGP] across the region will help ensure that civil society and government can work together to achieve shared goals of openness and accountability in support of improved development outcomes across Asia," said Boccuzzi.
The event focused on enhancing knowledge about working models associated with open government that embrace information provision and monitoring mechanisms for tracking and reporting results.
The Asia Foundation is a nonprofit international development organization committed to improving lives across a dynamic and developing Asia. Informed by six decades of experience and deep local expertise, our programs address critical issues affecting Asia in the 21st century—governance and law, economic development, women's empowerment, environment, and regional cooperation.
Read more about the Foundation's work.
For media inquiries, please visit the Press Room. Engage with us on Facebook, Twitter, and Instagram.