The Asia Foundation's Suzanne Siskel Speaks at International Conference on Asian Non-Profit Sectors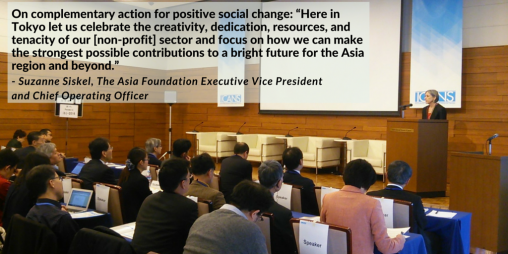 Tokyo, January 25, 2016 — On January 20, The Asia Foundation's Executive Vice President and Chief Operating Officer Suzanne Siskel spoke at the Toyota Foundation's 'International Conference on Asian Non-Profit Sectors'. The conference featured over 100 participants drawn from philanthropic foundations, non-profit organizations, research centers, and associations of NGOs and foundations from East and Southeast Asia along with several U.S.-based and global organizations. Siskel's talk, "Pushing Back and Moving Forward: Challenges and Opportunities for the Non-Profit Sector in Asia," drew on the Foundation's six decades of experience in the region.
Plenary sessions focused on the past, present, and future of non-profit sectors in Asia; while other sessions covered social enterprise, community foundations, social fundraising, aging Asia, environmental issues, and revitalizing local communities.
Focusing on the diverse Asian non-profit sector, Siskel's Tokyo presentation explored three interconnected themes: 1) critical issues that benefit from non-profit focus and action; 2) collaboration by non-profit organizations with one another and with public and private sectors to address these critical issues; and 3) a commitment to learning and adaptation as work progresses for effective and results-oriented impact.
On complementary and collaborative action for positive social change, Siskel said: "There is an understandable tendency when diverse organizations meet in settings like this to want to demonstrate our individual distinctiveness. But I would hope that what we all have in common is a commitment to the betterment of our communities and society. Here in Tokyo let us celebrate the creativity, dedication, resources, and tenacity of our sector and focus on how we can make the strongest possible contributions to a bright future for the Asia region and beyond."
The conference was organized by the Toyota Foundation in partnership with Japanese partners: Asia Center of the Japan Foundation, Japan Foundation Center, JACO, and Japan NPO Center, as well as the Asia Philanthropy Circle, Narada Foundation, Rockefeller Brothers Fund, and The Asia Foundation.
The Asia Foundation is a nonprofit international development organization committed to improving lives across a dynamic and developing Asia. Informed by six decades of experience and deep local expertise, our programs address critical issues affecting Asia in the 21st century—governance and law, economic development, women's empowerment, environment, and regional cooperation.
Read more about the Foundation's work.
For media inquiries, please visit the Press Room. Engage with us on Facebook, Twitter, and Instagram.
Read our latest news, or insights from our blog.
Media contacts
Amy Ovalle, Vice President, Global Communications
[email protected]
415-743-3340
Eelynn Sim, Director, Media & Strategy
[email protected]
415-743-3318
Change Starts Here Campaign Impact
Thank you for powering The Asia Foundation's mission to improve lives and expand opportunities.