The Asia Foundation Releases 2015 "Survey of the Afghan People" Findings in China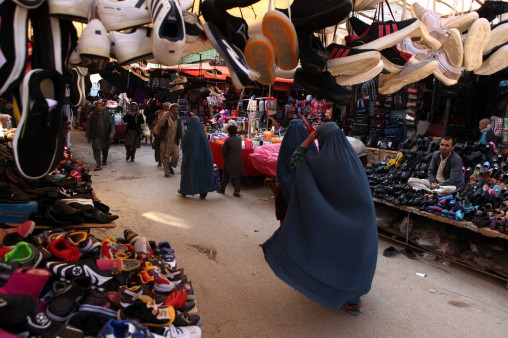 Beijing, January 26, 2016 — Recently, The Asia Foundation, together with the School of International Studies of Peking University, presented the special China launch of the Foundation's 2015 Survey of the Afghan People, the longest-running and broadest nationwide survey of Afghan attitudes and opinions. Presenters included experts from the Foundation's Kabul office: Jena Karim, Deputy Country Representative, and Zach Warren, Survey and Research Director. Professor Zha Daojiong from Peking University moderated the hour-long discussion.
In light of China's growing role in facilitating stability and development in Afghanistan and the advancement of its Belt and Road Initiative, the 2015 findings are particularly useful for Chinese scholars and policymakers in order to gain a more in-depth understanding of domestic attitudes and dynamics in Afghanistan.
China's interest in Afghanistan has taken on a new urgency as Beijing joined the four-nation talks that began this month, aimed at setting up a roadmap for restarting peace negotiations between the Afghan national government and the Taliban. China, together with the United States, Pakistan, and India, is considered a crucial player in ensuring the success of any negotiations with the Taliban.
Afghanistan's citizens are increasingly concerned with their country's political transition, insecurity and struggling economy, according to the poll. The annual Survey of the Afghan People shows that Afghan optimism about the overall direction of the country and confidence in government fell to their lowest point in a decade, while fear for personal safety increased to a record high. These are among the key findings in the annual survey, which polled more than 9,500 Afghans from June 11-28, 2015. More than 75,000 Afghans have been polled since 2004, and all data is public.
For more information, read the executive summary, FAQ, and over 10 years of analysis at https://asiafoundation.org/where-we-work/afghanistan/survey/.
The Asia Foundation is a nonprofit international development organization committed to improving lives across a dynamic and developing Asia. Informed by six decades of experience and deep local expertise, our programs address critical issues affecting Asia in the 21st century—governance and law, economic development, women's empowerment, environment, and regional cooperation.
Read more about the Foundation's work.
For media inquiries, please visit the Press Room. Engage with us on Facebook, Twitter, and Instagram.