New Asian Infrastructure and Investment Bank Breaks Ground: What You Need to Know
January 27, 2016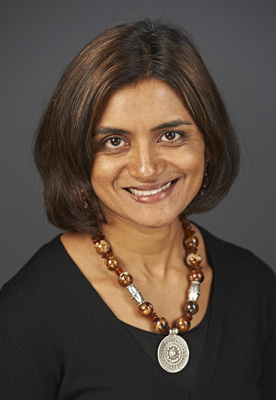 The newly created Asian Infrastructure and Investment Bank (AIIB) officially opened at a ceremony in Beijing on January 16. In Asia editor Alma Freeman spoke with The Asia Foundation's International Development Cooperation program director, Anthea Mulakala, to find out what makes the bank unique, implications for development approaches, and how the bank could address Asia's infrastructure deficit.
What is the AIIB, and how is it different from other multilateral banks like the World Bank or the Asian Development Bank?
The AIIB is a new multilateral bank, first conceived by China in 2013, and headquartered in Beijing. With 57 founding members, the AIIB has a start-up capital of $50 billion and an authorized capital of $100 billion. China is the largest shareholder with approximately 30 percent, followed by India, Russia, Germany, South Korea, Australia, France, Indonesia, Brazil, and the UK. The U.S. and Japan have not yet joined the AIIB.
There are in fact many similarities between the AIIB and existing multilateral finance institutions like the World Bank and ADB. The AIIB has a similar governing body to existing multilateral banks, including an international board of governors, board of directors, and board of management. However, the AIIB governance structure will be leaner. The World Bank's resident board is criticized as being both costly ($70 million a year) and inefficient. Mindful of these criticisms of counterpart institutions, the AIIB has established its board of directors as non- resident. Board members will correspond electronically and meet physically as needed.
The AIIB will also have environmental and social safeguards in place and has set high standards for integrity and compliance. The bank labels itself "lean, clean, and green."
The main differences between the AIIB and other development banks are mostly related to its mission/mandate: while the World Bank and the ADB have a poverty-focused objective, the AIIB will only invest in infrastructure. AIIB will invest in all countries, regardless of their development stage. And so far, the AIIB does not have a policy and knowledge role like the World Bank. AIIB is not as decentralized as the World Bank or ADB. The structure is lean with only 500-600 staff, compared to ADB which is six times this size, and World Bank which is 20 times this size.
What makes it unique?
Three main features make the AIIB unique:
China is the main shareholder and has the most votes. The American-dominated World Bank, European-dominated IMF, and Japanese-dominated ADB have not given China the space to play an influential soft power role in the global economy nor have these institutions responded to China's push for more infrastructural investments. While China commands 10 percent of the global economy, its voting power in the Bretton Woods institutions remains at 5 percent. The AIIB is part of China's broader regional development strategy embodied in the Belt and Road Initiative (BRI), which aspires to develop connectivity and cooperation among countries in Asia, Africa, and Europe through an elaborate network of land and sea infrastructure known as the Silk Road Economic Belt and the Maritime Silk Road. The BRI will benefit 63 percent of the global population and contribute $2.1 trillion to global GDP.China is also hopeful that the BRI will boost its economy by creating access to new markets. The AIIB will be one of several sources of financing for the BRI. However, the optimism of the BRI and the AIIB are tempered by the reality of China's slowing economic growth and a falling foreign exchange reserve. Funding both initiatives may prove challenging. The AIIB's first 5-year president, Jin Liqun, a Chinese national and former vice minister in China's Ministry of Finance, also served terms as an alternate executive director at the World Bank and vice president at the ADB.
AIIB is much more representative of the South and gives developing nations a bigger voice. At least 75 percent of share votes are allocated for Asia-Pacific member states. This provides smaller Asian countries with the voice they do not have in other multilateral banks.
AIIB promises efficiency. Slow project design, loan preparation, cumbersome compliance procedures, and lengthy procurement processes are unfortunate hallmarks of the existing multilateral banks. Asian countries have been looking elsewhere, often to commercial Asian banks, for loans for infrastructure projects for years now. The AIIB is committed to a simpler internal review and assessment process to move loans through the pipeline more quickly. The AIIB's non-resident governance structure (more private sector in nature) is intended to reduce the transaction costs that are now associated with the resident boards of the existing IFIs. The bank is also considering delegating some decision-making on loans to the AIIB's senior management. The AIIB's first loans are expected to be launched as early as the second quarter of 2016.
Why is the AIIB needed?
Whether it's traffic gridlock in Jakarta or power outages in Nepal, Asia has an infrastructure deficit. A 2012 ADB report notes that in Asia, 1.8 billion people are not connected to basic sanitation services, 800 million lack electricity, and 600 million do not have access to potable water. This infrastructure problem multiplies as the rate of urbanization increases. According to the World Resources Institute, in 2014 the World Bank's overall spending on infrastructure was $24.2 billion, and the Asian Development Bank's total spending across all sectors was $21 billion. Despite the fact that China has contributed $30 trillion to development over the past 30 years, Asia still has an infrastructure deficit of $8 trillion. The AIIB alone will not bridge this divide but it will certainly help to address Asia's current challenges in transport, power, and urban development. If the AIIB is able to bridge the infrastructure gap, it will make a huge contribution to growth and inclusion in Asia and beyond.
About our blog, InAsia
InAsia
is a bi-weekly in-depth, in-country resource for readers who want to stay abreast of significant events and issues shaping Asia's development, hosted by
The Asia Foundation
. Drawing on the first-hand insight of renowned experts,
InAsia
delivers concentrated analysis on issues affecting each region of Asia, as well as Foundation-produced reports and polls.
InAsia
is posted and distributed every other Wednesday evening, Pacific Time. If you have any questions, please send an email to
[email protected]
.
Contact
For questions about
InAsia
, or for our cross-post and re-use policy, please send an email to
[email protected]
.
The Asia Foundation
465 California St., 9th Floor
San Francisco, CA 94104
The Asia Foundation Supports Leaders for a Better World