The Asia Foundation Holds TV Discussion on Political Economy of Public Transportation in Timor-Leste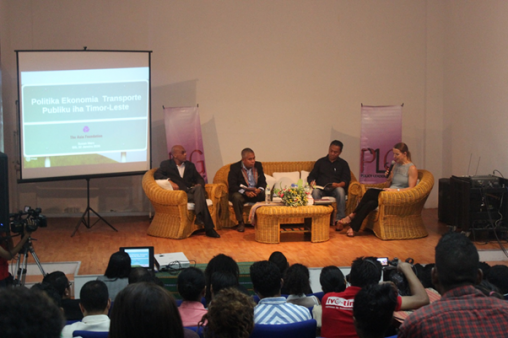 Dili, February 2, 2016 — The Asia Foundation's Australian-funded Support for Good Public Policy Program (SGPP) in Timor-Leste recently organized a televised discussion on public transport in Dili, as a follow up to the Foundation's research on the political economy of public transport in Timor-Leste which was launched in December, 2015. The discussion was held to socialize the research findings and discuss broadly in media with other stake holders. Panellists included: Inacio Freitas Moreira, Vice Minister of Public Works, Transportation and Telecommunication; Susan Marx, the Timor-Leste Country Representative for the Foundation; and Jose Lucas da Silva, from the National University of Timor Lorosa'e (UNTL). The discussion was chaired by Matias Boavida, from UNTL and was attended by 40 invitees, representing government agencies, international development partners, such as Japan International Cooperation Agency (JICA) and the International Labour Organization (ILO), and civil society.
In his opening statement, Mr. Moreira, expressed his commitment to work with the Foundation in looking at to improve public transportation in Timor-Leste based on the research findings. Vice Minister Moreira also took the opportunity to elaborate on the efforts that have been made by the Government of Timor-Leste in improving the public transportation policies in accordance with international standards, especially in sea and aviation transportation systems. The Vice Minister admitted that while there have been laws and regulations in place related to land-based public transport, the government has faced challenges in coordination with other government agencies and in the implementation of laws and regulations.
Presenting the main findings of the public transport research, Ms. Marx stated that despite ongoing challenges, and ongoing limitations with mobility, public transportation in Timor-Leste is in fact functioning within the country. However, large gaps exist in terms of service provision and considerations relating to user experience, safety, effectiveness, and efficiency, all which warrant serious and meaningful attention. Ms. Marx stated that: "If Timor-Leste is to develop its public transportation system in an adequate, safe, and accessible fashion, it will require not only financial and human resources, but a concerted effort at coordination between both government and private sector stakeholders."
The discussion was broadcasted on TV-E (Televizaun Edukasaun) Timor-Leste.
The Asia Foundation is a nonprofit international development organization committed to improving lives across a dynamic and developing Asia. Informed by six decades of experience and deep local expertise, our programs address critical issues affecting Asia in the 21st century—governance and law, economic development, women's empowerment, environment, and regional cooperation.
Read more about the Foundation's work.
For media inquiries, please visit the Press Room. Engage with us on Facebook, Twitter, and Instagram.
Read our latest news, or insights from our blog.
Media contacts
Amy Ovalle, Vice President, Global Communications
[email protected]
415-743-3340
Eelynn Sim, Director, Media & Strategy
[email protected]
415-743-3318
Change Starts Here Campaign Impact
Thank you for powering The Asia Foundation's mission to improve lives and expand opportunities.