Asia Foundation Announces 2016 Development Fellows: Emerging Leadership for Asia's Future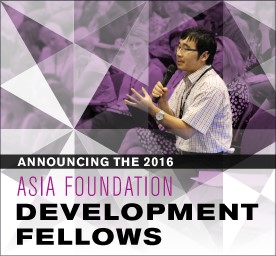 San Francisco, February 3, 2016 — The Asia Foundation today announced the 2016 class of the Asia Foundation Development Fellows: Emerging Leadership for Asia's Future. The six women and six men are an accomplished group of change makers – talented and inspirational young professionals working in government, the nonprofit sector, social enterprises, and media representing 11 Asian countries.
Across the region, a new generation of reform-minded individuals are creating impact, drawing from their experiences locally and globally. The Foundation's leadership development program, now in its third year, will bring together this network of innovators in their pursuit of creative solutions to the region's most critical development challenges.
The 2016 Development Fellows were selected from over 600 candidates from over 20 Asian countries who responded to the Foundation's October call for applicants. Representing Afghanistan, Bangladesh, China, India, Nepal, Pakistan, the Philippines, Sri Lanka, Thailand, Timor Leste, and Vietnam, the members of the 2016 class represent a diverse mix of backgrounds and incredible records of accomplishment and were selected for their relevant real-world development expertise, proven community leadership, and exceptional potential. The Asia Foundation extends congratulations to each of the 2016 Development Fellows on their selection.
Meet the 2016 Development Fellows:
Brabim Kumar (Nepal)
Writer & President of Association of Youth Organization Nepal
Mr. Brabim Kumar is a writer, political activist, and a communication specialist, currently serving as president of Association of Youth Organization Nepal (AYON), a national network of youth that unites 92 youth organizations in Nepal. He has a decade of commitment to youth-led activism in Nepal, which includes the founding of Creative Youth Society and a national radio show called Youth Vision, in 2004. In the aftermath of the 2015 Nepal Earthquake, he led a large-scale mobilization of youth for relief and resettlement activities, and was recognized nationally and internationally as being instrumental in the country's rebuilding process. Kumar holds a master's degree in Sociology and Anthropology, and a bachelor's degree in Environmental Sciences, both from Tribuwan University.
Carmeneza dos Santos Monteiro (Timor Leste)
Office of Prime Minister of Timor Leste
Ms. Carmeneza dos Santos Monteiro is a dedicated public policy and public management practitioner, currently serving as Public Administration Liaison Officer for the Office of Prime Minister of Timor Leste. Her other roles include President of the Australian Timor-Leste Development Awards Alumni Association and member of the Timor-Leste Policy Leaders Group supported by The Asia Foundation. She is a recipient of a number of awards, including the Australian Day Awards – for outstanding work during Australia's response to the 2006 humanitarian crisis in Timor Leste. She earned her bachelor's degree in International Relations from the Australian National University with honors.
Junjian Gaoshan (China)
Youth Analyst at United Nations Population Fund (UNFPA)
Mr. Junjian Gaoshan is currently an analyst for youth programme at United Nations Population Fund (UNFPA) China office. Gaoshan is an advocate for girls' education rights, as the member of youth advocate group at UN Secretary General's Global Education Initiative. He also engages in advocacy for girls' education rights, serving as a member of the youth advocate group at the UN Secretary General's Global Education Initiative, and through participation at the UN Sustainable Development Summit 2015. Previously, he was Chairperson of China Youth Network and founder of 360 Youth Education Initiative. He received his bachelor's degree in Economics from Renmin University of China, and master's degree in Global Health from Duke University.
Kimberly Molitas (Philippines)
Chief, Public Information Office of the National Capital Region Police Office
Ms. Kimberly Molitas is the Spokesperson and Chief of the Public Information Office of the National Capital Region Police Office in The Philippines. She has worked with the Philippine National Police for 17 years in various capacities, and has also served abroad with the United Nations' Stabilization Mission in Haiti. Molitas completed the Humphrey Fellowship on Public Policy Analysis & Public Administration, holds a master's degree in Transnational Crime Prevention, has a bachelor's degree in Nursing and in Public Safety, and earned a certificate on Leadership Development from the International Law Enforcement Academy in Thailand. She has also received the Outstanding Policewomen of the Philippines and Distinguished Service Medal award. Her goal is to empower women police around Asia.
Kotchakorn Voraakhom (Thailand)
Founder of Landscape and Urban Design Firm
Ms. Kotchakorn Voraakhom is a landscape architect, founder and director of Landscape and Urban Design, Bangkok-based architectural firm. She founded the Koungkuey Design Initiative (KDI), the international partnership that works with communities and difficult landscapes to design and rebuild public space through participatory process. She has worked on notable projects including the popular 2015 Thailand Pavilion in Milan, a number of innovative landscape designs for Bangkok. Kotchakorn is also a highly active campaigner for public green space. Her other roles include local designer for various other social change projects and consultant for the Redevelopment Bangkok 250 project, celebrating Bangkok's 250th anniversary. She received her master's degree in Landscape Architecture from Harvard University.
Lien Phuong Vu (Vietnam)
Defense Attaché Office, U.S. Embassy, Hanoi
Ms. Lien Phuong Vu is the Defense Program Coordinator for the Defense Attaché Office (DAO), U.S. Embassy, Hanoi. In this capacity she coordinates with the Vietnam Ministry of Defense in order to promote defense and security cooperation. Lien earned the U.S. Embassy's 2015 Foreign Service National of the Year Award for her contributions to achieving diplomatic, security and humanitarian objectives in the region. She has a bachelor's degree in Spanish Language and Culture from Hanoi University, linguistic certificates from Georgetown University, and was a recipient of a Spanish government scholarship to do language and culture coursework through the Universidad de Autonoma de Madrid.
Mahnoor Rathore (Pakistan)
Women's Rights Advocate
A human rights lawyer by training, Ms. Mahnoor Rathore currently runs Chayn Pakistan, the first crowdsourced website informing and supporting women experiencing domestic violence in Pakistan. She has actively volunteered and worked with various NGOs, both community and government based on a range of issues including education and women's rights. In 2014, she was selected for the Emerging Leaders of Pakistan Fellowship. Rathore is also a Fellow of the WISE Learner's Program (Qatar Foundation), developing innovative education projects. She also teaches and provides educational counseling for number of local schools, and leading other programs focusing on the arts. Rathore completed her bachelor of laws degree (Hons.) from University of London.
Nangyalai Attal (Afghanistan)
International Labour Organization (ILO) Expert & Founder of Girls' Education Non-Profit
Mr. Nangyalai Attal is currently serving as National Expert on Jobs with the International Labour Organization in Kabul and founded a non-profit organization for advancing girls education. For over a decade now, he has been raising awareness of the issue of girls' education through his campaign "Sisters' Education." In 2014, he won the United Nations Youth Courage Award, highlighting his commitment and his personal story of educating young girls from his family's kitchen, as a young boy living in his village in Afghanistan's Wardak province. Attal holds a master's degree in Human Resources and Labor Relations from Golden Gate University in San Francisco, and bachelor's degree in English Language and Literature from Kabul University.
Novil Wijesekara (Sri Lanka)
Doctor & Founder of Community Resilience Center
Mr. Novil Wijesekara is a medical doctor who established the first community-based tsunami early warning system of Sri Lanka and pioneered the community empowerment through disaster preparedness. Wijesekara founded the Community Resilience Center, a community-based organization that promotes resilience of communities. His work on disaster, health and environmental issues has been recognized through the National Disaster Resilience Leadership Awards of Ministry of Disaster Management, Health Excellence Awards of Ministry of Health and Innovative Research Grant Awards of the World Bank. He holds a master's degree in Community Medicine and bachelor of medicine and surgery, both from the University of Colombo.
Nuruddin Ahmed (Bangladesh)
Engineer & Founder of Bengali Youth Platform
Mr. Nuruddin Ahmed is an engineer, social entrepreneur, author, and the founder of the international award winning Bengali youth platform Shorob.com, a youth mobilizing platform that has reached a quarter of a million Bengali-speaking youths. Shorob publishes pieces various issues such as civic participation, human rights and minority rights. Ahmed also directs Shorob Accountability Lab (SAL), which develops innovative mobile applications focusing on government transparency, accountability and free and fair elections. He is currently pursuing a master's degree in Public Administration at the Central European University on a full fellowship. He holds an engineering degree in Computer Science from Bangladesh University of Engineering and Technology.
Ruby Hembrom (India)
Cultural & Indigenous Peoples Documentarian
Ms. Ruby Hembrom is the founder and director of Adivaani (first voices), an archiving and publishing outfit of and by Adivasis (the indigenous peoples of India). A trained instructional designer, editor and book designer, Hembrom's documentation initiative grew out of a need to claim Adivasi stake in historical and contemporary social, cultural and literary spaces and as peoples. She is the author of Adivaani's Santal Creation Stories for children and the prize winning Disaibon Hul, on the Santal Rebellion of 1855–57. Hembrom holds a law degree from Calcutta University and is currently pursuing a master's degree in Education at the Indira Gandhi National Open University.
Sushil Adhikari (Nepal)
Youth & Disability Rights Activist
Mr. Sushil Adhikari is a youth and disability-rights activist, blogger, freelance writer. He is also a developer, promoter, trainer in accessible and adaptive technology, and Founder of Bright Star Society, a venture working to bridge the gap between persons with and without disabilities in Nepal. Since losing his sight at age 11, he has worked to become an active change agent while engaging himself with different elements of the youth-disability sector in Nepal. Currently, he is working to raise awareness about disabilities and minority-rights, organizing various campaigns through radio, online-media and other technologies. He holds a master's degree in English, a master's degree in Sociology, and a bachelor's degree in Humanities all from Tribhuwan University.
The 2016 program will include a customized Leadership Training Program in Korea held in partnership with the Korea Development Institute (April 11-16); an applied Workshop on Asian Development in Mongolia (April 17-21); a small grant of up to $5,000 for each Fellow to design a custom professional development plan or project to be implemented over the course of the year; a mentoring program that links Fellows with experienced and respected leaders who have participated in Asia's progress and growth; and, in September, a capstone two-week leadership dialogue and exchange in San Francisco, New York City and Washington, D.C. (September 12-27).
Previous years' programs took the Fellows to Singapore, Nepal, and the Philippines. To learn more about the program, watch this video featuring the 2015 class of social entrepreneurs, activists, and innovators.
The Asia Foundation is a nonprofit international development organization committed to improving lives across a dynamic and developing Asia. Informed by six decades of experience and deep local expertise, our programs address critical issues affecting Asia in the 21st century—governance and law, economic development, women's empowerment, environment, and regional cooperation.
Read more about the Foundation's work.
For media inquiries, please visit the Press Room. Engage with us on Facebook, Twitter, and Instagram.