Photo Blog: Building Digital Libraries in Mongolia
February 10, 2016
Since the end of the socialist regime in the early 1990s, urban migration in Mongolia has continued to play an outsized role in the country's evolving economic and social identity. With 45 percent of Mongolia's traditionally nomadic population now living in Ulaanbaatar, public resources, especially those for schools and education, have been stretched perilously thin. To fill this gap, The Asia Foundation's Books for Asia and Library For All launched the Let's Read! digital library pilot project in Ulaanbaatar this month, which addresses the shortage of age- appropriate books, in both Mongolian and English, and invigorates a culture of reading among children. This photo blog looks at the challenges many of the schools in Ulaanbaatar's ger districts face and how the Let's Read! digital library is addressing them. Photos by Kyle Barker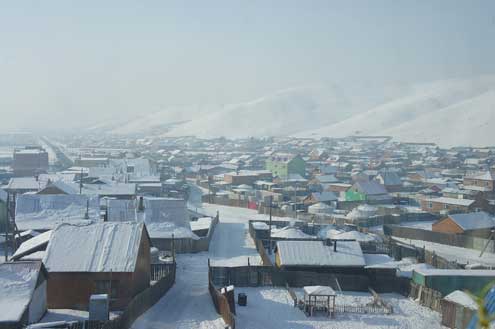 Ulaanbaatar sits in a valley where the Tuul and Selbe rivers meet. The steep mountains directly to the south of the city center force the rapidly expanding population to the east and west, and up into the hills to the north. It's in these areas where the city's ger districts, illegal settlements lacking public services, continue to push outwards from the city. Since Mongolians have a long history of using gers as a nomadic people, these districts have become widely accepted and often resemble permanent neighborhoods. According to the Work Bank, unemployment in the ger districts can top 60 percent, triple that of other areas of Ulaanbaatar.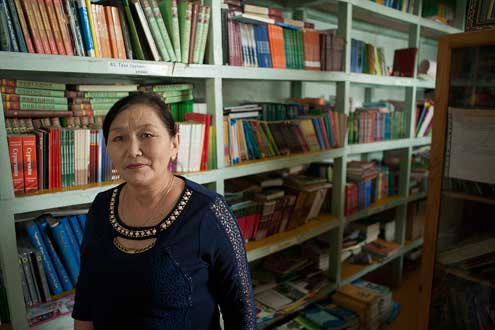 Librarians like Oyungerel, director of School #67 in Songino Khairkhan district, are working to change the culture and attitudes toward libraries and reading. Traditionally, books have been a scarce resource kept under lock and key out of fear that they'll be stolen. Oyungerel makes it a point to keep the library room unlocked during school hours. Still, due to its size, only five students are allowed inside at a time, which is not conducive to the leisurely exploration of books.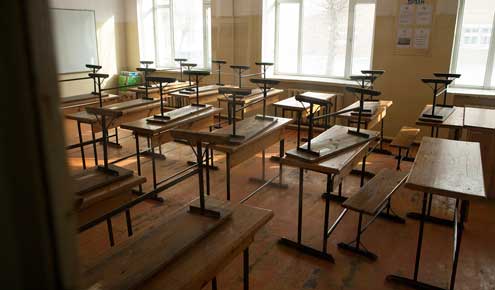 Many of the schools' libraries consist of two separate rooms:  a room for the books and a room in which to read the books. The latter is usually indistinguishable from an empty classroom. Many of Ulaanbaatar's schools are approaching seven decades and were built during Mongolia's socialist period.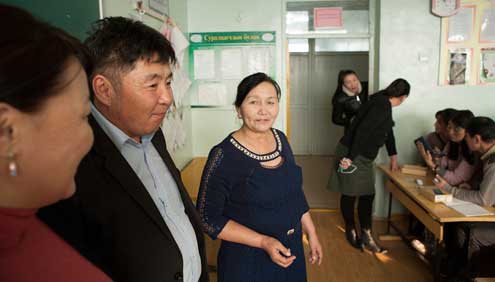 School directors, teachers, and librarians are working hard to change the culture of reading but there are many more students today and fewer books.  Here, Oyungerel introduces Let's Read! The Asia Foundation and Library For All's digital library to the teachers at her school.
Let's Read! brings over 200 Mongolian and English language titles directly to students via donated tablets. The expanding collection of books is stored on a local "hub" within the school and can be explored by students at their leisure while using the tablets. The "hub" provides a local Wi-Fi connection that does not require an internet connection or school staff to act as gatekeepers to the books. This eliminates the physical limitations of the schools' current libraries.  In Mongolia, Let's Read! was launched in partnership with the Mongolian Ministry of Education, Culture and Science, and Library For All in six schools in Ulaanbaatar's ger districts.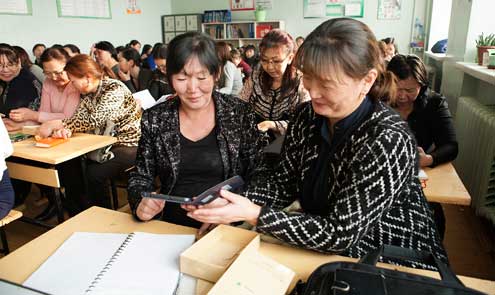 The students are not the only ones excited about the pilot project. Teachers from School #67 pack into a classroom to learn about how to use the digital library app along with ideas on how to integrate the digital library into their classroom lessons. While the collection of books and the pilot project target students and teachers in grades 5-9, many other grade-level teachers joined the training to learn about the project.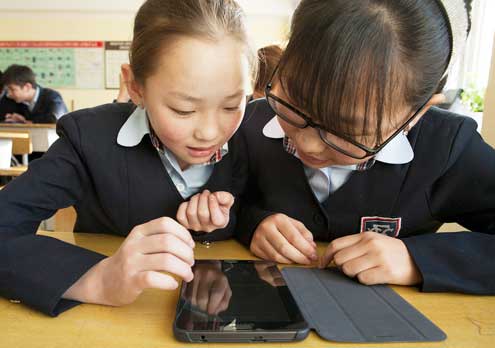 Students needed little introduction to the digital library app or the tablet itself. Most eagerly started exploring the library and reading books. A UNICEF study on the state of education and teaching in Mongolia states that increasing enrollment in schools is only the first step to improving education, how students are taught is as equally as important. The Let's Read! digital library provides students and teachers with relevant material that can be used both for classroom lessons and personal reading.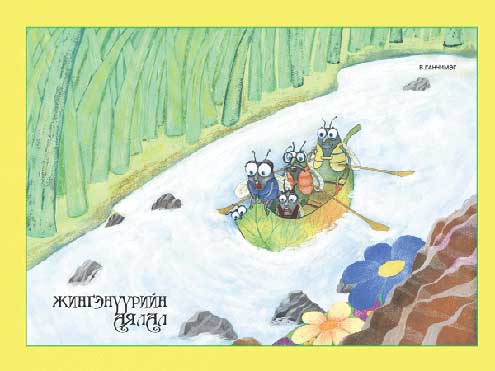 The cover illustration for Adventure of Jingenuur by Ganchimeg B., one of the winners of a national children's storybook writing competition held in conjunction with the Mongolian Ministry of Education, Culture and Science and the Society of Children's Book Writers and Illustrators. Twenty-five of the winning books are included in the Let's Read! digital library.
Kyle Barker is assistant director for Books for Asia. He can be reached at [email protected]. The views and opinions expressed here are those of the individual author and not those of The Asia Foundation or its funders.
About our blog, InAsia
InAsia
is a bi-weekly in-depth, in-country resource for readers who want to stay abreast of significant events and issues shaping Asia's development, hosted by
The Asia Foundation
. Drawing on the first-hand insight of renowned experts,
InAsia
delivers concentrated analysis on issues affecting each region of Asia, as well as Foundation-produced reports and polls.
InAsia
is posted and distributed every other Wednesday evening, Pacific Time. If you have any questions, please send an email to
[email protected]
.
Contact
For questions about
InAsia
, or for our cross-post and re-use policy, please send an email to
[email protected]
.
The Asia Foundation
465 California St., 9th Floor
San Francisco, CA 94104
The Asia Foundation Supports Leaders for a Better World