The Asia Foundation and Australian Government Partnership Working Paper Series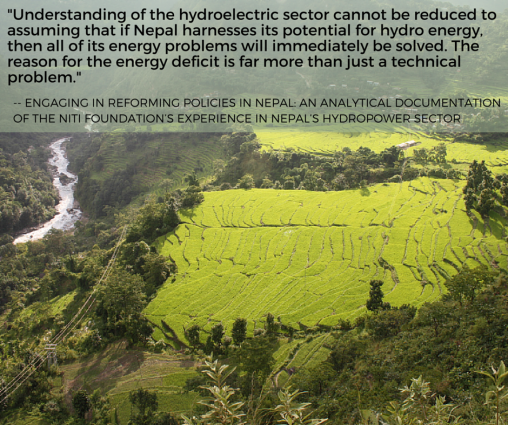 San Francisco, February 10, 2016 — Through its partnership with the Australian Government Department of Foreign Affairs and Trade (DFAT), The Asia Foundation today launched the fifth paper in its Working Paper series. The aim of the series is to draw on and share the rich lessons being learned through the country and regional programs that are implemented under the DFAT-Asia Foundation partnership. The partnership is a new form of collaboration aimed at supporting program and policy innovation that can improve aid effectiveness in the Asia-Pacific. The primary purpose of the partnership is to develop, test, and promote cost-effective innovations that increase the impact of development assistance and respond to the dynamic and evolving needs of the region.
The fifth paper in this series, Engaging in Reforming Policies in Nepal: An Analytical Documentation of The Niti Foundation's Experience in Nepal's Hydropower Sector, examines the Niti Foundation's unique experiences in engaging politically in the hydropower sector to achieve specific reform outcomes, as well as improve the inclusiveness and sustainability of the policy-making process in Nepal. Despite promising progress, the Niti Foundation's candid reflections also provide a sobering reminder of the deeply entrenched nature of "wicked" policy problems in Nepal. By drawing insights from their experience working in this sector, the Niti Foundation hopes that its reflections can contribute to the larger discourse on innovation in the development industry–especially as donors attempt to engage more effectively in supporting policy reform.
This ongoing DFAT-Asia Foundation Partnership Working Paper series will inform the broader international community by helping to better ground discussion in empirical evidence, advance theoretical debates, and ultimately improve development policy and practice across a variety of subject areas.
The Asia Foundation is a nonprofit international development organization committed to improving lives across a dynamic and developing Asia. Informed by six decades of experience and deep local expertise, our programs address critical issues affecting Asia in the 21st century—governance and law, economic development, women's empowerment, environment, and regional cooperation.
Read more about the Foundation's work.
For media inquiries, please visit the Press Room. Engage with us on Facebook, Twitter, and Instagram.