The Asia Foundation Announces Call for Proposals for the Civil Society Fund – South Asia Water Governance Program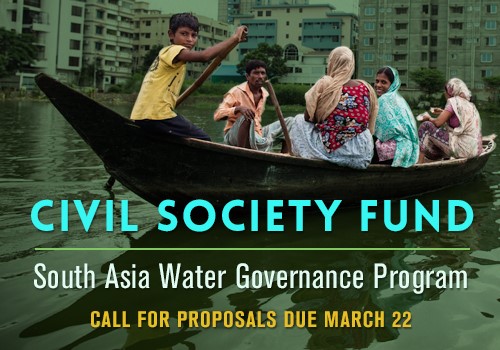 New Delhi, February 22, 2016 — The Asia Foundation announces a call for proposals under the Civil Society Fund of the South Asia Water Governance Program. The Civil Society Fund (CSF) is a DFID-supported program that supports civil society and community engagement on transboundary water issues in the South Asia region. The Fund seeks to improve the lives of communities, especially of vulnerable groups, including women, affected by decisions made regarding the governance and management of Himalayan Rivers in order to deliver sustainable, fair, inclusive, and climate resilient development of water resources.
South Asia's major rivers – the Indus, Ganges, and Brahmaputra – are critical to economic growth, food and energy security, and sustainable development of countries in the region. Over the last few decades, these rivers have sustained considerable stress from population growth, industrial development, urbanization, ecological degradation, natural disasters, and climate change. To bring together people, ideas and, institutions in the region to collaboratively address these challenges over a two-year period (2016-2017), the Civil Society Fund will support civil society organizations in seven focus countries – Afghanistan, Bangladesh, Bhutan, China, India, Nepal, and Pakistan to collaborate, network, and engage with one another across the region.
The call for proposals opens on February 22, 2016 and will close on March 22, 2016. For information on the eligibility criteria, application process and grant selection process, and to download application documents, please click here. For information and queries on the Civil Society Fund, write to us at [email protected].
The Asia Foundation is a nonprofit international development organization committed to improving lives across a dynamic and developing Asia. Informed by six decades of experience and deep local expertise, our programs address critical issues affecting Asia in the 21st century—governance and law, economic development, women's empowerment, environment, and regional cooperation.
Read more about the Foundation.
Engage with us and follow updates on Facebook, on Twitter at @Asia_Foundation, and on LinkedIn.
Read our latest news, or insights from our blog.
Media contacts
Amy Ovalle, Vice President, Global Communications
[email protected]
415-743-3340
Eelynn Sim, Director, Media & Strategy
[email protected]
415-743-3318
Change Starts Here Campaign Impact
Thank you for powering The Asia Foundation's mission to improve lives and expand opportunities.