Advancing Women's Rights in Afghanistan: A Conversation with Lael Mohib
February 24, 2016
On Tuesday, February 23, Lael Mohib, founder of the Enabled Children Initiative, spouse of Afghanistan's ambassador to the United States, and former chief of staff at the American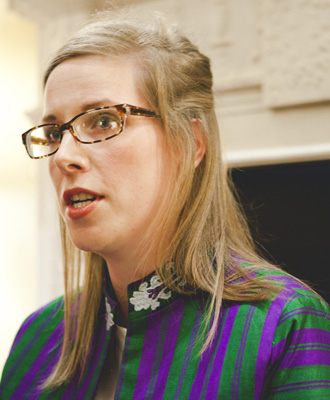 University of Afghanistan, appeared in conversation with Clare Lockhart, co-founder and director of the Institute for State Effectiveness. The two discussed women's rights in Afghanistan with The Asia Foundation's Lotus Circle in New York, a vibrant community of committed individuals and organizations working together to empower women and girls across Asia. Later this spring the Lotus Circle will honor First Lady Rula Ghani at the Lotus Circle Awards Gala on May 11.
In Asia editor Alma Freeman spoke with Lael Mohib this week about recent progess for women in Afghanistan, including Afghan President Ashraf Ghani and First Lady Rula Ghani's inauguration of the country's first Trust Fund for Victims of Violence Against Women and the new anti-harassment regulation passed earlier this month.
What do you see as the biggest challenges and opportunities facing women and girls in Afghanistan today? 
The challenges Afghan women and girls are still facing in Afghanistan are huge, but we cannot discount the enormous progress that has been made, in the past 14 years, but also since the National Unity Government was elected in late 2014.
When President Ghani addressed the U.S. Congress in March 2015, he laid out three pillars of focus for improving the situation for women and girls in Afghanistan: through educational opportunities for women and girls, through economic empowerment, particularly of rural women, and through a mental and cultural revolution in the way women are sometimes treated by Afghan society. In President Ghani, Afghanistan has a leader who is seriously committed to treating women's rights as human and constitutional rights. Not only are there more women in Afghanistan serving in government than ever before in the country's history, but we also have a government that is factoring women into national policy and delivering programs based on their needs.
President Ghani has already put many programs and policies into action, and taken many personal actions, to make good on these promises. This is very encouraging. To name a few: the country's first public women-only university will break ground this year; a new national program to increase economic opportunities for rural women has been approved by the Cabinet and will launch this year; and President Ghani is leading by example in uplifting his own wife, First Lady Rula Ghani, in her own work to facilitate practical programs and facilities (like educational and healthcare centers) for women.
These are just a few examples of how the new government has placed at its core agenda advancements in women's rights, improving women's access to justice, empowering women economically, increasing security for women, and providing more opportunities for women in the public work force and in education.
But we have to remain grounded in reality and make sure we are always moving this agenda forward. There are still major challenges for women. As the recent UN Assistance Mission in Afghanistan report showed, insecurity and conflict disproportionately affects women and girls. With more women and girls playing an active role in public space, we have to make sure that policies, laws, facilities, and resources are in place to make public space safe and accommodating for them. This applies to women across the country, not just in our cities. Rural women are a big focus of the new administration, as these women have largely been underserved and overlooked in previous programs and policy. Lastly, though the diversity of lifestyles in Afghanistan varies from very conservative to progressive, there are still some negative and harmful attitudes toward women that require grassroots leadership to change. I believe we have already witnessed great generational changes over the decades, and today the young generation in Afghanistan is leading the way.
What do recent actions like the Trust Fund for Victims of Violence Against Women and the anti-harassment regulation that makes it illegal and punishable to harass a woman in the workplace mean for women in Afghanistan?
These actions mean that their government has diagnosed the problems that women face, has come up with a plan for how to address them, and is now actually implementing those solutions. It also means that the country's leaders really care about these issues and want to do something practical to address them. I hope these initiatives move past being symbolically important and do result in tangible benefits for the women they are designed to help, despite challenges of implementation. We have to start somewhere, and I feel that this government has the right leadership and follow-up and is creating systems and processes to deliver, so I'm confident these programs will reap actual benefits for women.
From your work with children in Afghanistan, what impact has migration and conflict had, and how will that impact future generations, and what is being done to mitigate the negative consequences/impact? 
The organization I founded, Enabled Children Initiative, works specifically with disabled children who have been abandoned or orphaned, both of which are direct effects of poverty or conflict. Conflict has torn families apart in Afghanistan over the years, depriving people of peace and basic rights and opportunities. As President Ghani has said, "Ordinary has escaped us, but it's what we desperately want." My husband was a refugee when he was a teenager, escaping a homeland ruled by the Taliban and with few other opportunities left except to take up arms. Conflict has had a generational effect on Afghan families. No one wants to flee their home and be separated from their family – it is a terrible and desperate situation to be in. Now the problems prompting migration are insecurity but also a high unemployment rate after the quick drawdown of foreign forces, which were generating approximately half a million jobs for Afghans and stimulating other sectors of the economy, such as logistics and trucking. The international community's continued support and effective use of donor funding will be very important in helping President Ghani implement his long-term vision for economic repair. There are some short-term job stimulus initiatives underway in the meantime, such as the Jobs for Peace program.
The First Lady has emphasized the special place that women have in Islam and Afghan culture. What are your thoughts on this? 
I am thankful we have such a strong, outspoken, and wise First Lady who is actively working for women and the country. Her message is one that is so important and powerful that Afghans need to hear from their leadership, and for the world to hear this message to. As Mrs. Ghani said in her now renowned and incredibly moving speech at the Oslo Symposium in 2014, women need to reclaim their past, to be empowered by their government, society, and communities, and then to rise up and take responsibility. Reclaiming a past of strong female leadership, both in Islam and in Afghan culture, after so many decades of conflict and displacement, is an incredibly inspiring and moving message for women and men alike to hear. I recall talking to a young Afghan man who was in the crowd at Oslo with his wife when Mrs. Ghani spoke and he told me how moved, inspired, and proud he felt listening to her message.
The views and opinions expressed here are those of the interviewee and not those of The Asia Foundation.
About our blog, InAsia
InAsia
is a weekly in-depth, in-country resource for readers who want to stay abreast of significant events and issues shaping Asia's development, hosted by
The Asia Foundation
. Drawing on the first-hand insight of over 70 renowned experts in over 20 countries,
InAsia
delivers concentrated analysis on issues affecting each region of Asia, as well as Foundation-produced reports and polls.
InAsia
is posted and distributed every other Wednesday evening, Pacific Time. If you have any questions, please send an email to
[email protected]
.
Contact
For questions about
InAsia
, or for our cross-post and re-use policy, please send an email to
[email protected]
.
The Asia Foundation
465 California St., 9th Floor
San Francisco, CA 94104
Mailing Address:
PO Box 193223
San Francisco, CA 94119-3223