The Asia Foundation's Anthea Mulakala Participates in South-South Cooperation Conference in Delhi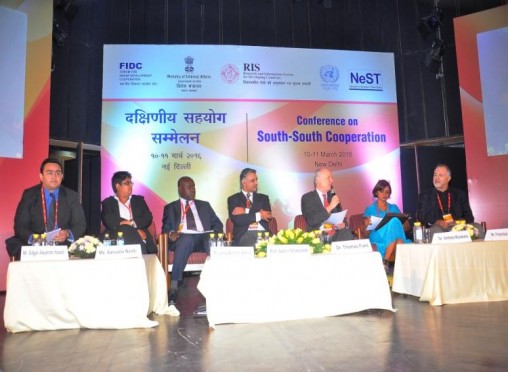 New Delhi, March 16, 2016 — Last week, The Asia Foundation's director of International Development Cooperation program Anthea Mulakala spoke at the Research and Information System for Developing Countries (RIS) conference on South-South Cooperation (SSC). Mulakala joined over 500 renowned scholars and experts who underscored the importance and impact of South-South Cooperation in the international development landscape.
The aim of the conference was to review the on-going dialogue among Southern actors on the nature and contours of SSC. Participants mostly from Asia, Africa, and Latin America, debated definitions, presented new developments in SSC in areas such as health, science and technology, and education, and the role of non-state actors in SSC. The conference also affirmed the role of the Network of Southern Think-Tanks (NeST) to serve as a knowledge and information bridge for southern countries. Mulakala shared the lessons garnered from The Asia Foundation's experience of Asian Approaches to Development Cooperation (AADC) in the plenary panel on regional experiences of South-South cooperation.
South–South cooperation (SSC) has been in existence for the last several decades. As the growth of traditional aid slows, volumes of SSC are rising dramatically. The Asia Foundation's extensive regional networks, practical understanding of capacity needs and strengths, and track record of facilitating horizontal partnerships offer a viable, convenient platform for South-South Cooperation knowledge exchange. For more than a decade, the Foundation has established itself as a facilitator of South-South partnerships in critical areas such as central and local governance capacity building, security and justice reform, women's and minority rights, leadership development, and disaster management.
The Asia Foundation is a nonprofit international development organization committed to improving lives across a dynamic and developing Asia. Informed by six decades of experience and deep local expertise, our programs address critical issues affecting Asia in the 21st century—governance and law, economic development, women's empowerment, environment, and regional cooperation.
Read more about the Foundation's work.
For media inquiries, please visit the Press Room. Engage with us on Facebook, Twitter, and Instagram.
Read our latest news, or insights from our blog.
Media contacts
Amy Ovalle, Vice President, Global Communications
[email protected]
415-743-3340
Eelynn Sim, Director, Media & Strategy
[email protected]
415-743-3318
Change Starts Here Campaign Impact
Thank you for powering The Asia Foundation's mission to improve lives and expand opportunities.