Redesigned asiafoundation.org Highlights Local Knowledge and Impact
San Francisco, May 6, 2016 — The Asia Foundation today launched its newly redesigned website (asiafoundation.org), with a clean new look and enhanced navigation experience. The new website reflects the San Francisco-based nonprofit international development organization's efforts to rapidly respond to complex political, economic, and social issues in developing Asia and deliver development programs that meet local needs.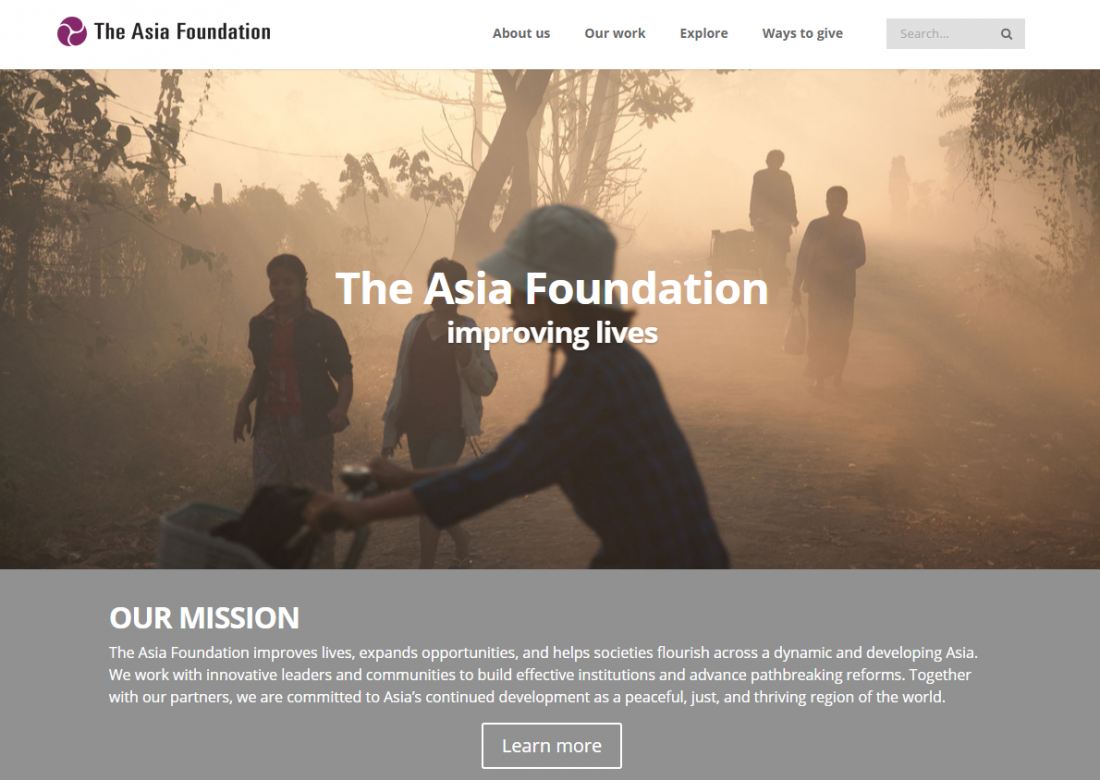 The Asia Foundation is committed to improving lives across a dynamic and developing Asia through a network of offices in 18 Asian countries and in Washington, DC. The previous version of asiafoundation.org saw approximately half of its website visitors coming from Asia, with the In Asia blog and careers as two of the most popular areas of the site. Building on this, the new website will continue to highlight the Foundation's local knowledge and engage public and private sector audiences on critical development issues facing the region in the 21st century.
The new asiafoundation.org shines a light on the Foundation's talented staff, strong in-country and regional partnerships, and transformative programs in the most populous and rapidly changing region of the world. The site is now content-optimized featuring stories from the field and dynamic content. Other simpler, more responsive site functionalities include:
better use of Asia Foundation's incredible library of photos;
reorganized with simpler navigation to better demonstrate impact;
improved typography to make the site easier to read;
adapted to mobile devices for a rich viewing experience whether on a desktop or a mobile phone or tablet; and
over the coming week, will be deployed on over 50 servers worldwide promising faster load times internationally.
Also highlighted on the new site are the organization's goals, strategies, and impacts from its dialogues, programs, and strategic partnerships across Asia. The upcoming TAF2020 Strategic Plan and 2015 Annual Report will provide additional strategies and stories on Asia Foundation's longstanding commitment to Asian progress and inclusive development.
For the past 62 years, The Asia Foundation has made sustained investments throughout Asia to strengthen governance, empower women, expand economic opportunity, increase environmental resilience, and promote regional cooperation. In 2015, the Foundation provided more than $95 million in direct program support and distributed textbooks and other educational materials valued at over $10 million.
Read more about the Foundation's work. Engage with us on Facebook, Twitter, and Instagram.
2019 Lotus Leadership Awards Dinner
Wednesday May 29, 2019, San Francisco
Honoring Jennifer Cabalquinto, CFO of the Golden State Warriors, and Lana Condor, Actor and Philanthropist
2019 Lotus Leadership Awards Gala
Wednesday, May 29, 2019, San Francisco