New Report Reveals Improved Citizen Perceptions of Security, Safety, and Police in Timor-Leste
Dili, June 30, 2016 — A new report launched today, "A Survey of Community-Police Perceptions in Timor-Leste 2015," shows increases in citizens' feelings of safety and security, and perceptions of the visibility, involvement, and professionalism of the National Police of Timor-Leste (PNTL). However, the nation-wide survey also points to some areas where continued work is needed.
This survey, made possible with financial support from the United States Agency for In ternational Development (USAID), the New Zealand Ministry of Foreign Affairs and Trade and the Australian Federal Police is the third of its kind conducted by The Asia Foundation in Timor-Leste. In 2008, the Foundation conducted the first nationwide survey of community-police perceptions in Timor-Leste. The aim of the survey was to gather firsthand opinions from a large sample of the Timorese general public, community leaders, and members of the PNTL on a variety of local security and police-related issues. A follow-on survey was conducted in 2013 that aimed to track changes in opinion as well as to establish baselines for the period just after the last United Nations Police members left the country in December 2012.
The 2015 survey launched today gathered longitudinal data to help track changes in opinion and police practice. However, it also has the objective of supporting the PNTL in the monitoring and evaluation of their 2014-2018 Strategic Plan. As such, the survey has shifted focus from identifying openings for police development support to providing direct evidence to support implementation and decision-making by the police.
In her opening remarks at the launch event at Hotel Timor, Country Representative for The Asia Foundation in Timor-Leste Susan Marx observed, "This survey indicates some good news for the police. More respondents are optimistic about the security situation as compared to 2013 . There has also been an increase in the use of the PNTL as the first point of contact following a criminal incident."
"However, despite this increasingly positive outlook, there is more work to be done to improve security, conflict resolution, and community-police relations in Timor-Leste."
Minister of the Interior Longuinhos Monteiro and PNTL General Commander, Commissioner Julio da Costa Hornay confirmed this during their speeches. Minister Longuinhos Monteiro noted," Through their work, the PNTL are gaining more credibility, and the relationships between the PNTL and citizens are improving. However, there are also some shortcomings that need to be noted. As presented in this survey, domestic violence and land disputes are the main security issues facing our communities. We need to ensure that PNTL as well as the community members themselves are aware of the laws and ensure that all public crimes are referred to the formal justice system. "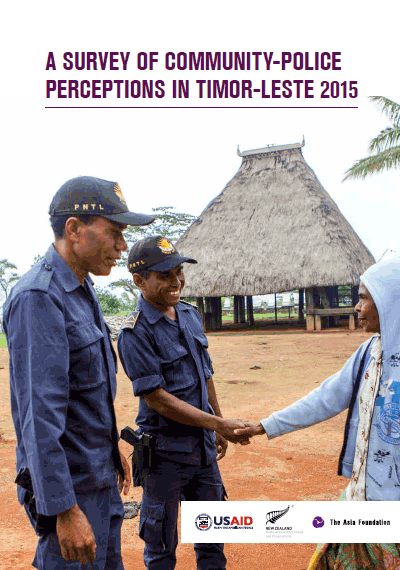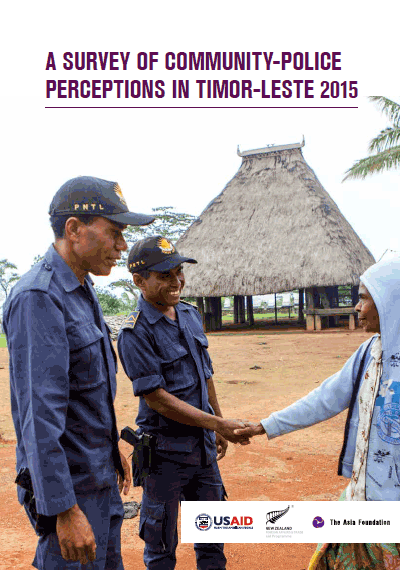 While this report is an important resource for a variety of government, police, and civil society actors, the PNTL and the Foundation in particular will draw on the findings of this report to target and evaluate their work under their current partnership to improve safety and security in Timor-Leste by institutionalizing a locally relevant and sustainable model of community policing. This program, the Community Policing Support Program, is funded by the New Zealand government and active in 123 suku across the country.
At the launch, Vicky Poole, New Zealand Ambassador to Timor-Leste, spoke about the importance of this continued collaboration, "New Zealand is continuing to make a significant contribution towards building safe and secure communities in Timor-Leste. This second phase of community policing support demonstrates Timor-Leste's high regard for New Zealand's approach to security issues. It will enable the gains made over the last four years of community policing support to be consolidated and sustained."
The Asia Foundation is a nonprofit international development organization committed to improving lives across a dynamic and developing Asia. Informed by six decades of experience and deep local expertise, our programs address critical issues affecting Asia in the 21st century—governance and law, economic development, women's empowerment, environment, and regional cooperation.
For media inquiries, please visit the Press Room. Engage with us on Facebook, Twitter, and Instagram.
Read our latest news, or insights from our blog.
Media contacts
Amy Ovalle, Vice President, Global Communications
[email protected]
415-743-3340
Eelynn Sim, Director, Media & Strategy
[email protected]
415-743-3318
Leaders on the Frontlines:
Leaders for a Better World
Tuesday, November 9, 2021, 6PM PT