Asia Foundation Releases Report on Aid and Recovery in Post-Earthquake Nepal
Kathmandu, September 26, 2016 — Following the deadly earthquakes in Nepal last year, The Asia Foundation developed the Independent Impacts and Recovery Monitoring (IRM) project, which tracks the effectiveness of aid delivery and its impact on recovery in the aftermath of the earthquakes. Recently, the Foundation released the second phase of reports, which focuses on the depth of impacts and complex ways in which recovery is occurring. The IRM project tracks changes over time through multiple research rounds: the first was conducted in June 2015, the second in February and March 2016, and the third is ongoing. The project is supported by the governments of the United Kingdom and Switzerland. The series of reports can be downloaded here.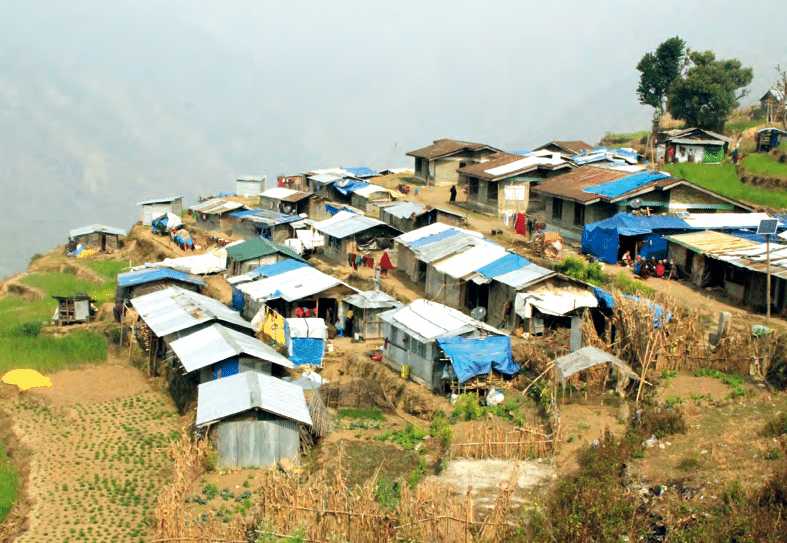 The three reports in the IRM Phase 2 series track how aid has impacted lives in affected areas and how people cope with changes over time. Consisting of a mix of quantitative and qualitative research methods, the studies focus on five key areas: aid delivery and effectiveness; politics and leadership; social relations and conflict; protection and vulnerability; and economy and livelihoods. The findings includes a large-scale household survey and in-depth field monitoring: (i) a quantitative survey of 4,850 respondents randomly selected across 11 districts of varying earthquake impact levels; (ii) qualitative field monitoring in 36 wards of six districts; and (iii) a synthesis of the qualitative and quantitative research.
Detailed findings can be found in the Quantitative Survey and Qualitative Field Monitoring reports. The Synthesis Report summarizes and combines both reports.
Conducted at approximately six-month intervals over the course of two years, the IRM project provides regular and rigorous data on how people's needs are evolving, the challenges they face, the coping strategies they use, and the extent to which aid is helping. By sharing these reports with the broader community working on post-earthquake recovery, The Asia Foundation hopes to contribute to ensuring that the aid response to the earthquake is effective and accountable.
The studies help assess and understand how local contextual factors interact with state and non-state provision of aid. Combined with analysis of shifts in government structure and policy over the course of the series, the studies provide valid and reliable data on the direction and magnitude of public sentiment about state performance. They also enable a sharper focus and more precise placement of recovery/reconstruction goods and services.
Key findings from this wave of research are:
There is an urgent need for a strategy to provide more sturdy shelters and for programs to mitigate the consequences of staying in temporary shelters.
People need access to cash grants and affordable credit to rebuild their homes.
Marginalized groups are particularly vulnerable and at risk of debt traps.
Distribution of aid is uneven and some poorer and remote areas are missing out.
Conditions remain difficult and call for clearer policies as well as faster and more widespread assistance.
Stay tuned for an upcoming In Asia blog for analysis of the IRM-2 research. Watch this video featuring interviews with affected households, produced by the Democracy Resource Center Nepal, as part of the IRM project.
The Asia Foundation is a nonprofit international development organization committed to improving lives across a dynamic and developing Asia. Informed by six decades of experience and deep local expertise, our work across the region addresses five overarching goals—strengthen governance, empower women, expand economic opportunity, increase environmental resilience, and promote regional cooperation.
Read more about the Foundation's work.
For media inquiries, please visit Press Room. Engage with us on Facebook, Twitter, and Instagram.
Read our latest news, or insights from our blog.
Media contacts
Amy Ovalle, Vice President, Global Communications
[email protected]
415-743-3340
Eelynn Sim, Director, Media & Strategy
[email protected]
415-743-3318
Change Starts Here Campaign Impact
Thank you for powering The Asia Foundation's mission to improve lives and expand opportunities.