Luncheon – Asian Views on America's Role in Asia: The Future of the Rebalance
Event: Friday, November 18, 2016, San Francisco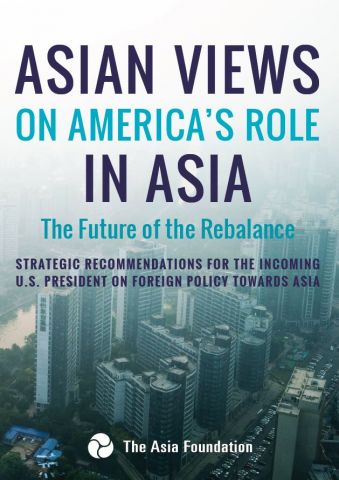 Friday, November 18, 2016
11:45 a.m. – 1:15 p.m.
World Affairs Auditorium
312 Sutter Street, Suite 200
San Francisco, CA
The 2016 election campaign has revealed mounting skepticism on economic and trade issues, including the Trans-Pacific Partnership; security, such as on the Korean peninsula; ASEAN and other regional institutions; the new South Asian geopolitical landscape and the rise of China; anxiety about an American withdrawal from Afghanistan; maritime law; and other non-traditional security issues. Across the Pacific, Asian leaders are deeply concerned about America's long-term support and Washington's political will to sustain its long-standing international security commitments.
Most Asian nations want the United States to continue its long-standing, strategic balancing role, but they also welcome a rising China that can spur economic growth and development. Can the countries of the region have both without generating conflict and instability? And if so, how? The next US president must skillfully navigate these and other complex issues in Asia and immediately devote high level attention to the region, according to a forthcoming policy report by The Asia Foundation.
Slated for release in November, Asian Views on America's Role in Asia presents policy recommendations for the incoming administration. Hear from prominent Asian and American public policy experts and former government officials with deep insight into the past record of US-Asian relations and the Obama Administration's ongoing initiatives. For more than six decades, and across 18 countries in Asia, The Asia Foundation's networks and comprehensive development programs provide access to a wide range of US and Asian leaders, both inside and outside of government, who can provide these perspectives.
Join us for this luncheon and timely discussion on Asia's future and America's role.
This event is co-sponsored with the World Affairs Council of Northern California.
SPEAKERS
C. Raja Mohan
Founding Director, India Centre at the Carnegie Endowment for International Peace
Thitinan Pongsudhirak
Executive Director, Institute of Security and International Studies, Chulalongkorn University
Yoon Young-kwan
Professor of International Relations, Seoul National University
MODERATOR:
Ellen Laipson
President Emeritus, The Stimson Center
Trustee Emeritus of The Asia Foundation
Click here to register and use promo code: THEASIAFOUNDATION to get the reduced member rate of $25.00 (full price $40)
Change Starts Here Campaign Impact
Thank you for powering The Asia Foundation's mission to improve lives and expand opportunities.