Dr. Mari Elka Pangestu Named 2016 Chang-Lin Tien Distinguished Visiting Fellow
San Francisco, November 1, 2016 —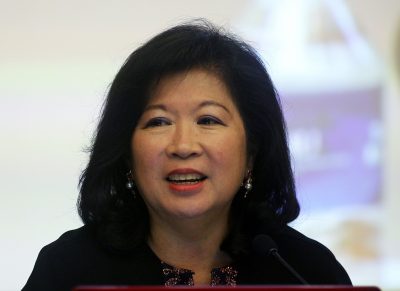 Recently, The Asia Foundation named Dr. Mari Elka Pangestu the 2016 Chang-Lin Tien Distinguished Visiting Fellow. Dr. Pangestu is currently Professor of International Economics at the University of Indonesia, on the Board of Trustees, Centre for Strategic and International Studies and Board of Advisers, Prasetya Mulya University. The primary focus of the visit is to explore aspects of innovation and the creative economy in the U.S. by examining the interaction among centers of academic research, the business community, and government and the creation of hubs from which a "Creative Economy" takes root and ultimately blossoms.
Dr. Pangestu is one of Indonesia's most well-known economists working in various areas of international trade, financial sector, macro-economics and policy reforms at the University of Indonesia and Centre for Strategic and International Studies, as well as being a consultant to many international organizations. From 2004 to 2011 she served as Indonesia's Minister of Trade, and as Minister of Tourism and Creative Economy from 2011 until October 2014.
During the visit, Dr. Pangestu will consider the opportunities and challenges for Indonesia as the milestone of "middle-income status" comes into view for the archipelago nation with over 250 million inhabitants. Given Indonesia's growing economic and strategic importance, there is also great interest on the part of specialists and the broader public in these topics.
The Asia Foundation Chang-Lin Tien Distinguished Visitor Program honors the late Chair of the Foundation's Board of Trustees and Chancellor of the University of California, Berkeley. Widely respected for his expertise in thermal energy and his leadership in higher education, he was an inspiration to his many friends and students. The purpose of the fellowship program is to foster dialogue and encourage exchange of perspectives between noted Asian and American leaders to help strengthen Asia-US relations.
The Asia Foundation is a nonprofit international development organization committed to improving lives across a dynamic and developing Asia. Informed by six decades of experience and deep local expertise, our work across the region addresses five overarching goals—strengthen governance, empower women, expand economic opportunity, increase environmental resilience, and promote regional cooperation.
Read more about the Foundation's work.
For media inquiries, please visit Press Room. Engage with us on Facebook, Twitter, and Instagram.
Read our latest news, or insights from our blog.
Media contacts
Amy Ovalle, Vice President, Global Communications
[email protected]
415-743-3340
Eelynn Sim, Director, Media & Strategy
[email protected]
415-743-3318
Change Starts Here Campaign Impact
Thank you for powering The Asia Foundation's mission to improve lives and expand opportunities.