Asia Foundation, ODI Release New Case Study Under Working Politically in Practice Series
"Building Justice and Peace From Below? Supporting Community Resolution in Asia"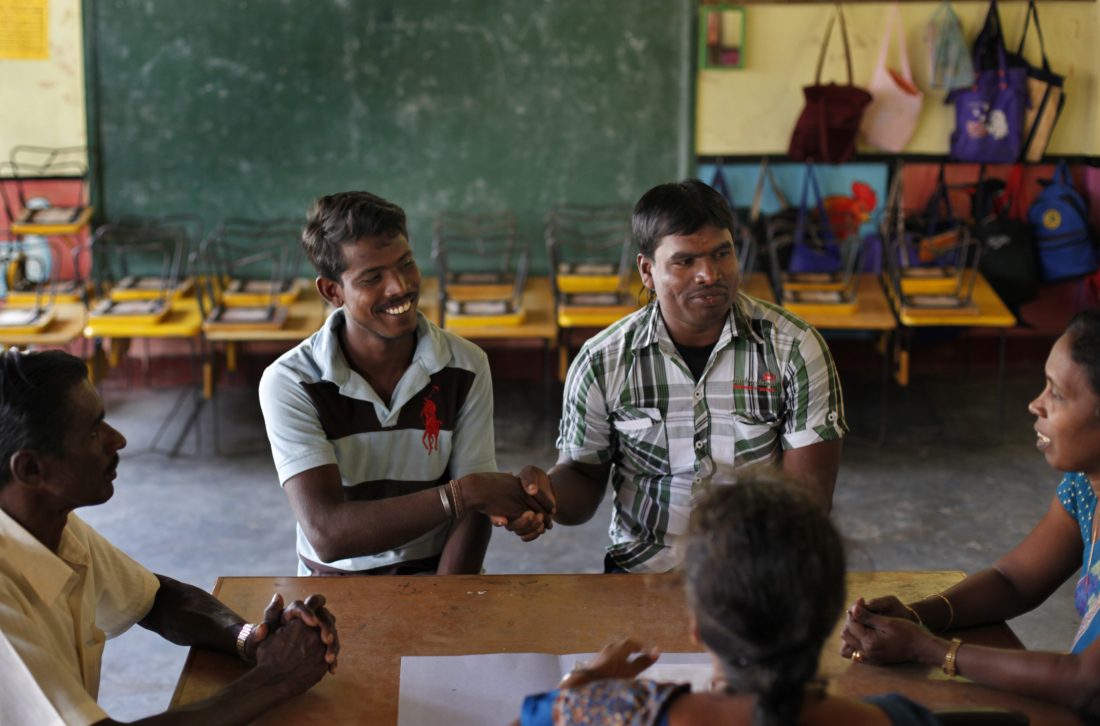 San Francisco, November 3, 2016 — Today, The Asia Foundation launched "Building Justice and Peace From Below? Supporting Community Resolution in Asia." The paper looks at the realities of working in politically informed ways to support the resolution of local disputes in three countries.
The paper provides a bird's-eye view of The Asia Foundation's thinking and practice in community dispute resolution in the Philippines, Sri Lanka and Nepal. In doing so, it looks at how a program may (or may not) contribute to access to justice, improving social relations, and conflict reduction. This paper analyzes how community dispute resolution interventions offer a promising alternative to typical donor statebuilding and peacebuilding interventions. Resolving local disputes in this manner is generally more accessible, legitimate, and cheaper than formal courts in many developing and conflict-affected countries. The paper also offers critical reflections for practitioners.
"Building Justice and Peace From Below? Supporting Community Resolution in Asia" was written by Craig Valters, research fellow at the Overseas Development Institute. It is one of three recent papers that articulate the Foundation's approach to key conflict programming areas, with support from the UK Government through a Programme Partnership Arrangement (PPA). Programming and research under the PPA has aimed to improve state-society relations to support peace and stability in countries and subnational regions affected by protracted conflict and fragility.
This is also the ninth paper in its Working Politically in Practice paper series, which was originally set up to draw on and share the rich lessons being learned through the country and regional programs under the Australian Department of Foreign Affairs and Trade Partnership (DFAT-TAF Partnership). This ninth paper makes an important contribution to broader thinking and debates on how international donors and international nongovernmental organizations can be most effective in supporting statebuilding and peacebuilding.
Papers published under this series show how the Foundation develops, tests, and promotes cost-effective innovations that increase the impact of development assistance and respond to the dynamic and evolving needs of the region. They also aim to inform the broader international community by helping to better ground discussion in empirical evidence, advance theoretical debates, and ultimately improve development policy and practice across a variety of subject areas.
The Asia Foundation is a nonprofit international development organization committed to improving lives across a dynamic and developing Asia. Informed by six decades of experience and deep local expertise, our programs address critical issues affecting Asia in the 21st century—governance and law, economic development, women's empowerment, environment, and regional cooperation.
Read more about the Foundation's work.
For media inquiries, please visit the Press Room. Engage with us on Facebook, Twitter, and Instagram.
Read our latest news, or insights from our blog.
Media contacts
Amy Ovalle, Vice President, Global Communications
[email protected]
415-743-3340
Eelynn Sim, Director, Media & Strategy
[email protected]
415-743-3318
2022 Impact Report
Thank you for powering The Asia Foundation's mission to improve lives and expand opportunities.