Asia Foundation and UNOCHA Hold Workshop on Improving China's NGOs Response to Natural Disasters
Beijing, November 4, 2016 — Recently The Asia Foundation and the United Nations Office for the Coordination of Humanitarian Affairs (OCHA) held a workshop on Improving How China's NGOs Respond to Disasters Abroad. The multi-day workshop brought together 30 representatives from China's leading humanitarian groups and non-governmental organizations (NGOs) to discuss improving ways to engage the international humanitarian system. Led by experts from OCHA, the workshop was held with support from local partners: China Association for NGO Cooperation, Beijing Normal University Risk Management Innovation & Research Centre, and China NGO Centre for Disaster Risk Reduction.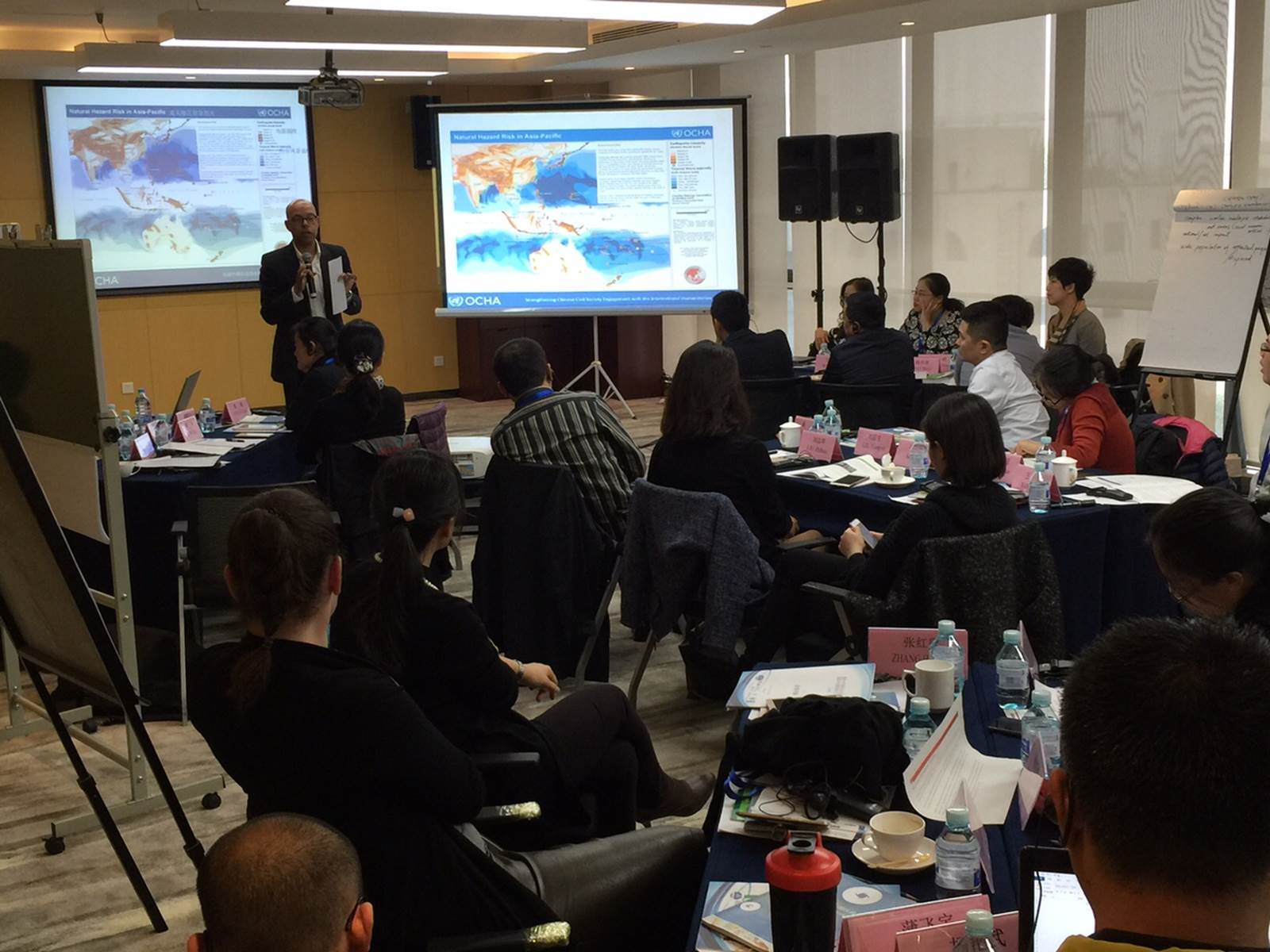 Workshop sessions explored emergency response models and methods, and used data from previous disasters to build scenarios for participants to discuss how to best respond. The workshop is timely as a number of Chinese organizations have teamed up to join humanitarian relief teams to deliver urgent assistance in the aftermath of Hurricane Matthew in Haiti. The workshop cited the situation in Haiti to look at the roles and responsibilities of humanitarian organizations, and offer approaches to improve the coordinated delivery of relief.
The workshop involved several disaster case studies ranging from the devastation of Typhoon Haiyan in the Philippines to ongoing drought in Africa's Sahel region. Participants discussed how to design a so-called "modern response" to their assigned crisis, and to ask questions such as, "What if nobody else comes to help?" in trying to devise a strategy for domestic disaster response. The sessions ended with group presentations of "plans of action" for future international deployments, and discussion of further training objectives and opportunities.
In addition to immediate post-disaster relief, China is increasingly recognizing the importance of disaster preparedness at the community level. Since 2006, The Asia Foundation has worked with Chinese partners from both governmental and non-governmental institutions to engage communities in disaster preparedness initiatives, mobilizing private sector contributions, and developing training courses for communities, businesses, and government agencies.
The Asia Foundation is a nonprofit international development organization committed to improving lives across a dynamic and developing Asia. Informed by six decades of experience and deep local expertise, our programs address critical issues affecting Asia in the 21st century—governance and law, economic development, women's empowerment, environment, and regional cooperation.
Read more about the Foundation's work.
For media inquiries, please visit the Press Room. Engage with us on Facebook, Twitter, and Instagram.
Read our latest news, or insights from our blog.
Media contacts
Amy Ovalle, Vice President, Global Communications
[email protected]
415-743-3340
Eelynn Sim, Director, Media & Strategy
[email protected]
415-743-3318
Leaders on the Frontlines:
Leaders for a Better World
Highlights from the event