The Asia Foundation Releases 2016 Survey of the Afghan People
Major public opinion poll reveals dissatisfaction with progress
Kabul, December 7, 2016 — The national mood in Afghanistan is at a record low, and Afghans are pessimistic because of insecurity, corruption, and rising unemployment and slow job growth. At the same time, more Afghans, particularly rural Afghan men, now support women's right to vote and women's right to work outside the home than ever before. The 2016 Survey of the Afghan People polled 12,658 Afghan respondents from 16 ethnic groups across all 34 provinces, including insecure and physically challenging environments. Explore the executive summary, FAQ, and 12 years of data here.
The annual survey is the longest-running and broadest nationwide survey of Afghan attitudes and opinions. Since 2004, the Survey has gathered the opinions of more than 87,000 Afghan men and women, providing a unique longitudinal portrait of evolving public perceptions of security, the economy, governance and government services, elections, media, women's issues, and migration.
The failure of peace talks with the Taliban earlier this year, new incursions by the Taliban, and record civilian casualties have contributed to a low sense of optimism. Afghans appear to have less confidence in every level of government. The withdrawal of international troops in 2014 can still be felt in the Afghan economy. Despite the worsening economic and security environment, the desire to emigrate fell to a record low this year and Afghanistan has seen a high number of returnees from European countries.
"Afghanistan is emerging from decades of war and conflict. For the moment, a sense of personal safety and empowerment remains elusive," said Abdullah Ahmadzai, The Asia Foundation's country representative in Afghanistan. "The findings this year illustrate Afghans' dissatisfaction with their government, job growth, and household finances. The nation's security, political, and economic transitions are still unfolding, and the Survey suggests that more time is required for progress in these areas."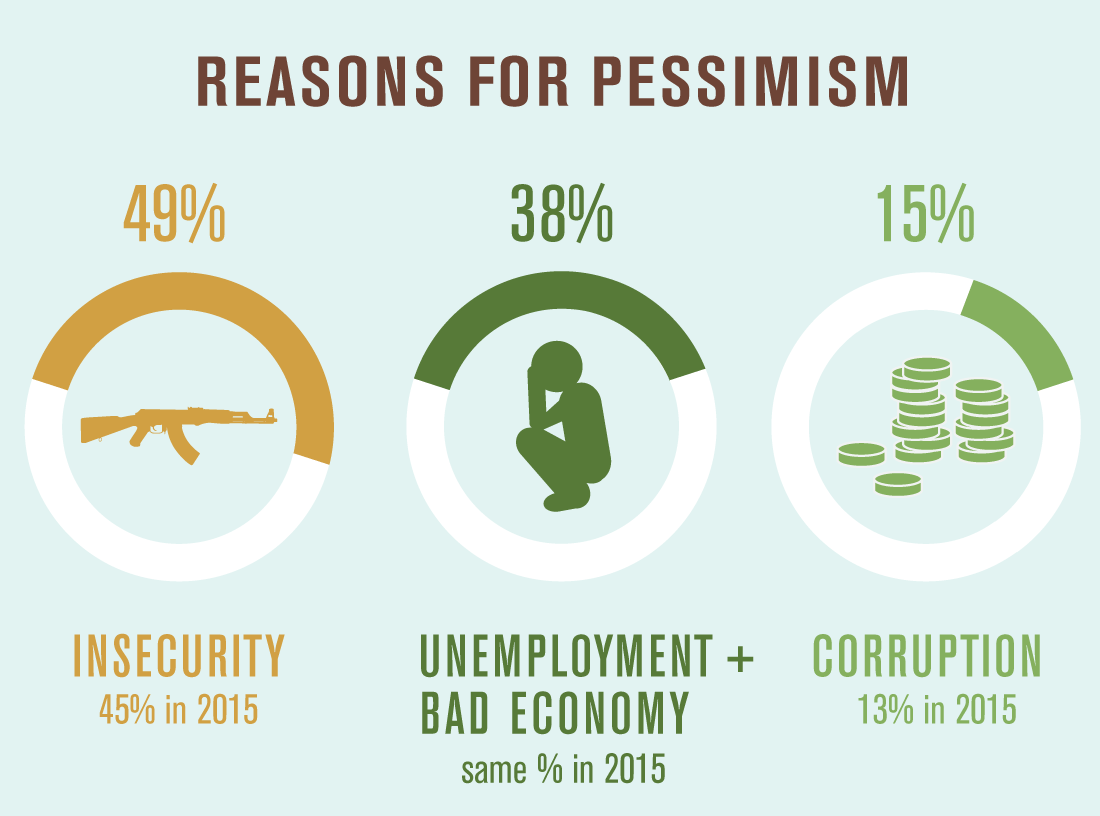 Lowest recorded level of optimism amid rising insecurity, civilian deaths, economic challenges
A downward trajectory in national mood which began in 2013 has continued: only 29.3% of Afghans interviewed in September 2016 say the country is moving in the right direction, the lowest level of optimism since the Survey began in 2004. A marked rise in civilian casualties and worsening violence has contributed to the highest recorded level of fear in over a decade—69.8% of Afghans are afraid for their personal safety. Fear is still the most pronounced in the South West region at 82%, and in Helmand, where insurgent attacks have intensified and the Taliban now hold control over most of the province, 92.3% say they are afraid sometimes, often or always, a 7% increase since 2015 and a 25% increase since 2014. At the same time, although general awareness of ISIS/Daesh has increased from 74.3% in 2015 to 81.3% in 2016, the perception that ISIS/Daesh is a threat to security actually decreased, from 54.2% in 2015 to 47.9% this year.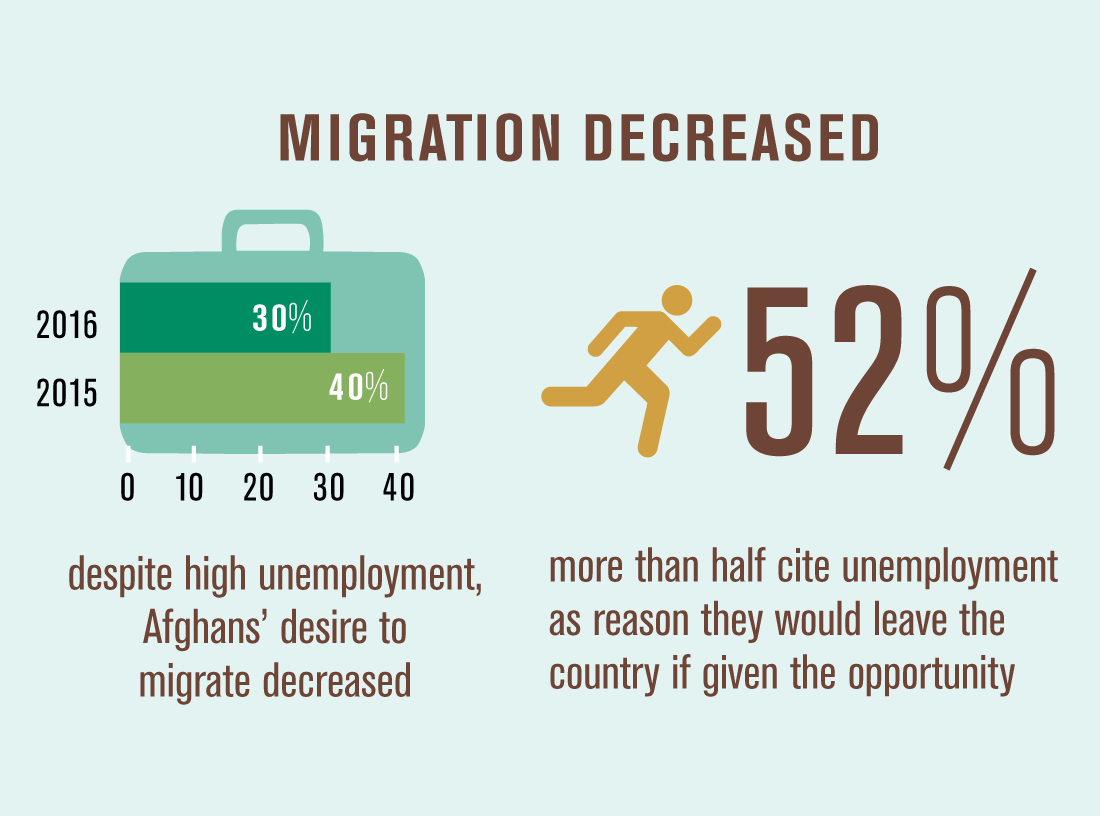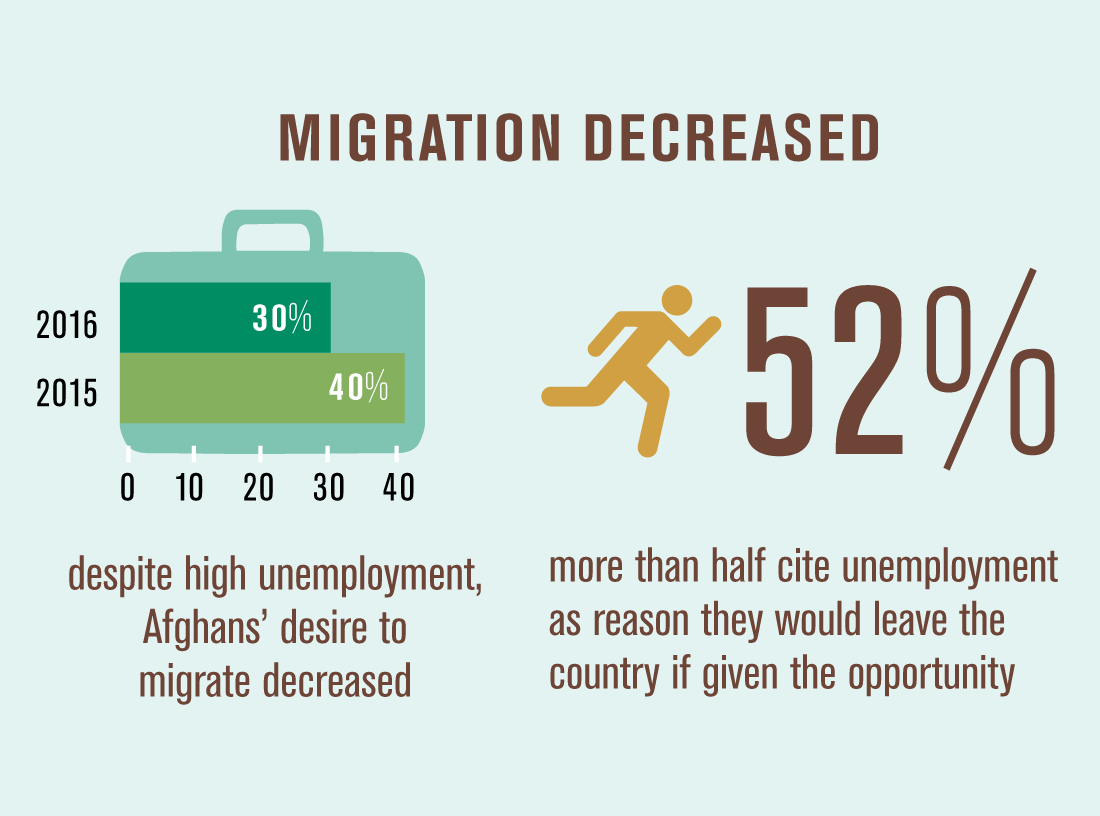 Despite unemployment, fewer Afghans interested in migrating
Amid an influx of returnees and changing reception policies of other countries, the percentage of Afghans now expressing a desire to migrate has decreased significantly, from 39.9% in 2015 to 29.6% this year, the largest drop on record in the Survey. This occurred even though unemployment rates remain high. Afghans say the biggest problem facing youth is unemployment, 71.2%, and more than half of Afghans (51.5%) cite unemployment as a reason they would leave the country if given the opportunity. Factors that might explain a decreased desire to migrate, include the destination's reception and resettlement policies. When asked about their household financial situation, 36.6% say their financial situation has worsened, compared to 29.7% in 2015. The most economically affected areas include provinces that once housed foreign military camps, notably near Bagram Air Base, where dramatic reductions in spending have impacted supply chains and the local economy.
Sharp decline of confidence in public institutions; television is trusted and positively shaping public perception
Confidence in public institutions and NGOs is at an historical low. By comparison, Afghans say they are most confident in, first, their religious leaders (66.1%), and second, the media (64.5%). Radio is still the most popular source of information, with 70.5% of respondents receiving news and information from the radio, followed by television at 66.4%. Nearly two-thirds of Afghans (64.5%) report watching TV programs; Tolo TV is the most watched network. Television stations in Afghanistan now feature women in a variety of roles, from newscasters to singers, to both housewives and working women in TV dramas, raising questions as to whether TV viewership affects public perceptions. Respondents who watch more hours of TV are more likely to support women's rights. Despite increased barriers for free journalism, access to information continues to increase, and the use of the Internet to obtain news and information rose significantly from 3.2% in 2013 to now 11.6% in 2016.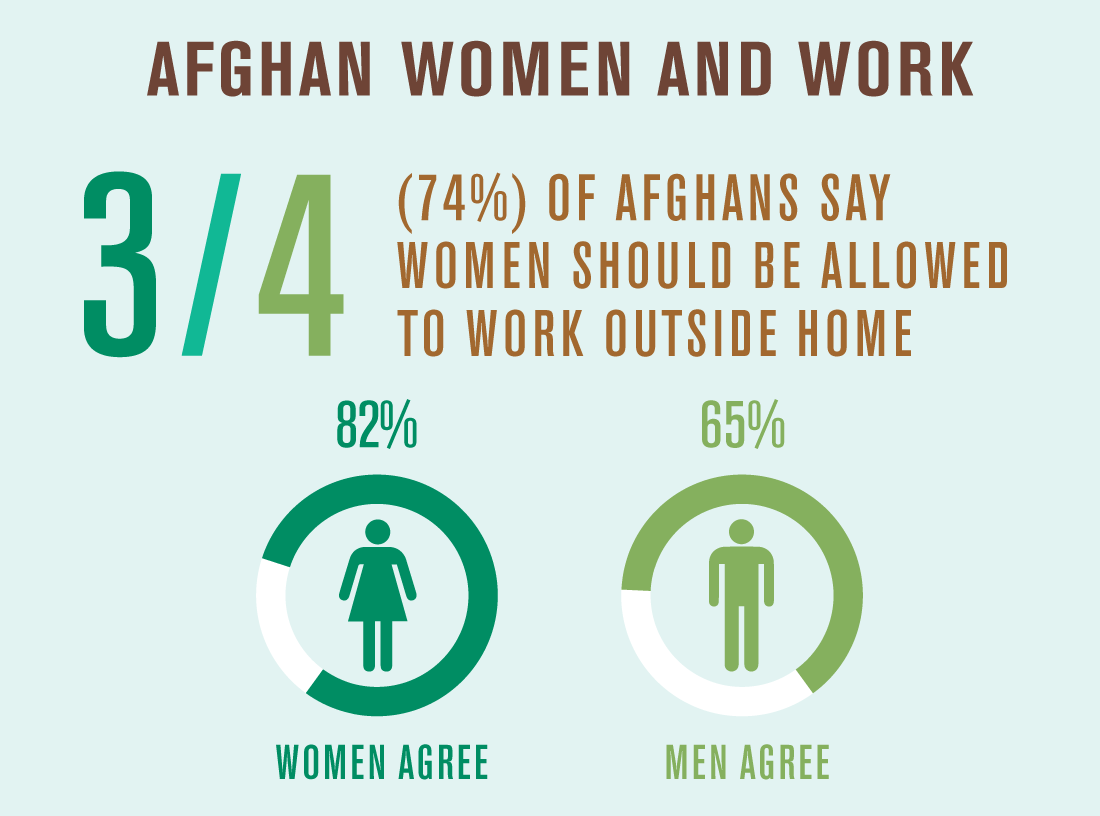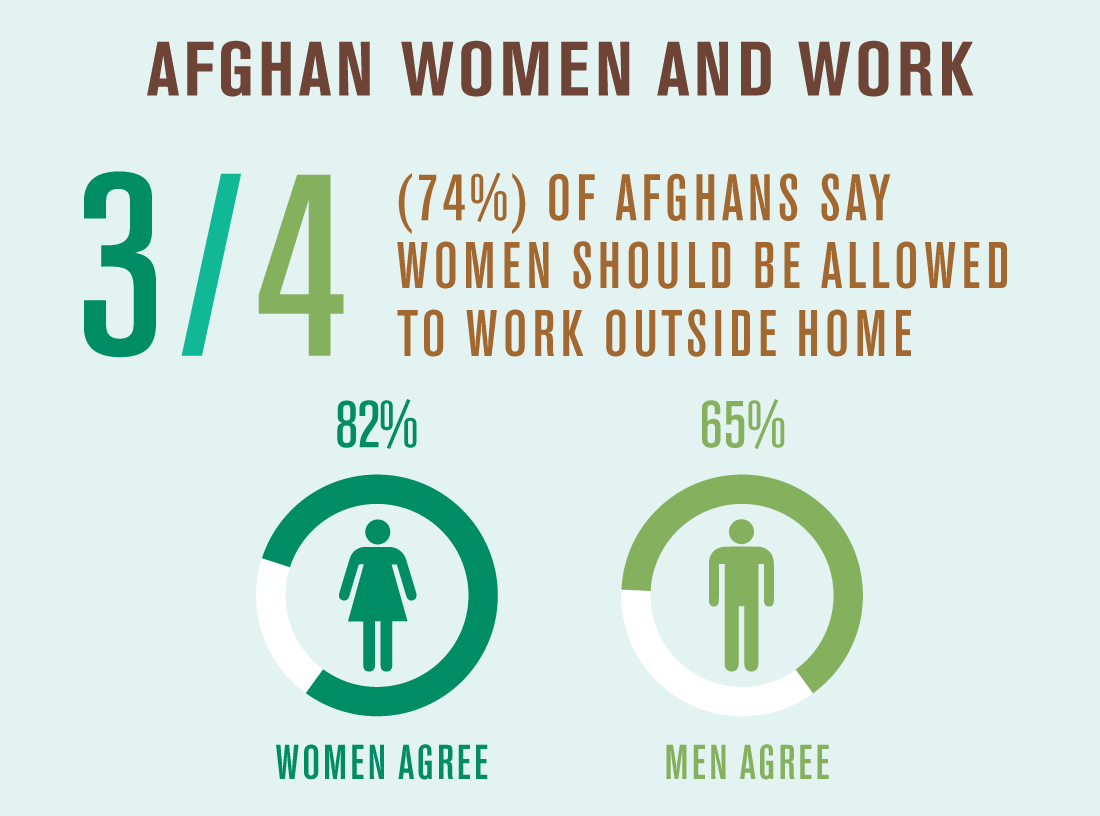 A record number of Afghans feel women should be able to work outside the home
74.0% say women should be allowed to work outside the home, a record high that appears related to the depressed economy and need for dual-earner households. Afghan support for women in leadership positions remains mixed, with support for women in local leadership such as community development councils, significantly higher than support for women in cabinet-level positions. Afghans again listed education/illiteracy as the biggest problem facing women (36.1%), followed by unemployment (22.9%). However only 19.1% say a woman contributes to their household's income, down from 22.6% in 2015.
Public awareness of development projects has increased; healthcare access and nutrition remain central concerns
More than one-third of respondents (34.3%) say they are aware of a project to build or repair roads and bridges in their community, a significant increase from last year's rate of 30.3%. The biggest increase in awareness is of new mosque construction, which rose from 21.9% in 2015 to 30.8% in 2016. Across all categories of development, levels of awareness are well below peak levels in 2011, which coincided with high levels of international and military aid expenditure. Notably, the awareness of service delivery appears to have a strong positive effect on public perceptions; Afghans who say they know of a reconciliation project are more likely to say that the National Unity Government (NUG) is doing a good job and more likely to report increased national optimism about the future of the country.
"The Survey is a map of social change over time, presenting a body of crucial knowledge for policymaking and development programming in a rapidly transforming nation," said David D. Arnold, President, The Asia Foundation. "With rising uncertainty about Afghanistan's future, Afghans are, in fact, weathering challenges and hardships; this year's findings point to a need for strategic thinking and sustained support from the international community."
Access the survey, data sets, and infographics here. Follow @Asia_Foundation and join the conversation at #AfghanSurvey.
About the 2016 Survey
This year's Survey of the Afghan People polled 12,658 Afghan respondents, 53.0% of them male and 47% female, representing 16 ethnic groups across all 34 provinces in the country. Face-to-face interviews were conducted between August 31 and October 1 by a team of 1,003 trained Afghan enumerators matched with respondents by gender. Survey results have been weighted to be gender balanced and nationally representative using the most recent population data (2015–2016) released by the Afghan Central Statistics Organization. The total sample consisted of 25% urban households and 75% rural households, and this year's margin of error for the probability sample is ±1.6%, based on a design effect of 3.445 and a confidence interval of 95%.
The Asia Foundation in Afghanistan
The Asia Foundation is a nonprofit international development organization committed to improving lives across a dynamic and developing Asia. The Asia Foundation began working in Afghanistan in 1954 and re-opened its Kabul office in 2002. Since then, the Foundation has assisted the central and provincial government and supporting Afghan citizens to create a stable, prosperous society. Programs focus on the development of subnational governance; strengthen key executive branch agencies; and support programs in civic education, women's empowerment, education, Islam and development, and free and fair elections.
Read our latest news, or insights from our blog.
Media contacts
Amy Ovalle, Vice President, Global Communications
[email protected]
415-743-3340
Eelynn Sim, Director, Media & Strategy
[email protected]
415-743-3318
2020 Annual Report
Addressing the global crisis