Asia Foundation Partner Perludem Wins Open Government Award for Indonesian Election Application
Paris, December 9, 2016 —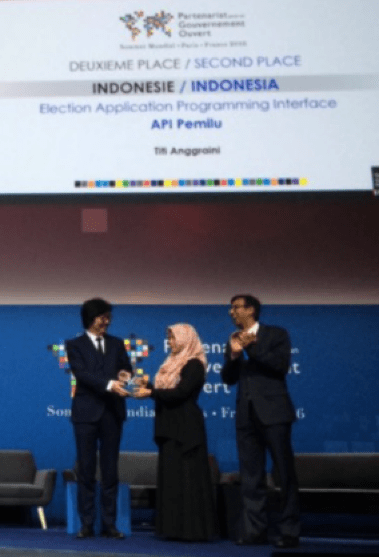 This week, The Asia Foundation's partner in Indonesia, election advocacy organization Perludem was honored at the Third Annual Open Government Awards at the Open Government Partnership (OGP) Global Summit in Paris, France. The award highlighted Perludem's API Pemilu platform (Elections Application Programming Interface), a database of election information carefully verified, aggregated, and coded in a developer-friendly way which streamlines the elections process. Perludem's Titi Anggraini accepted the award on December 7.
API Pemilu data have fueled 32 apps so far, in addition to an interactive candidate map that covered all 34 provinces on Google's new Indonesia elections page, built in partnership with Google and The Asia Foundation. In March 2014, The Asia Foundation supported Perludem's Code for Vote hackathon event to promote the development of mobile apps. Developers created over 40 prototypes capable of disseminating election information on Android and iOS mobile devices delivering high quality information to voters throughout Indonesia. This initiative has encouraged Indonesia's National Election Commission (KPU) to consider developing its own API and to join with Perludem on future hackathons.
The awards celebrated civil society initiatives that are using government data to bring concrete benefits. These initiatives improve civic participation in public life, improve functioning of government and create new services with social and commercial value. Other awardees include: the Ukrainian initiative ProZorro which sheds light on corrupt procurement practices in that country, and the Honduran branch of the Construction Sector Transparency Initiative (CoST), which works to make government more accountable for construction and infrastructure spending.
The Asia Foundation's support for elections in Indonesia is based on its years of experience on the ground. During the New Order period, the Foundation supported Indonesian religious mass organizations to promote reform and social welfare. Since the beginning of Indonesia's democratic transition in May 1998, the Foundation has worked to promote free and fair elections and the development of an engaged citizenry. The Foundation works with champions in government and civil society to strengthen democratic institutions, as well as to promote human rights and gender equality.
The Asia Foundation is a nonprofit international development organization committed to improving lives across a dynamic and developing Asia. Informed by six decades of experience and deep local expertise, our programs address critical issues affecting Asia in the 21st century—governance and law, economic development, women's empowerment, environment, and regional cooperation.
Read more about the Foundation's work.
For media inquiries, please visit the Press Room. Engage with us on Facebook, Twitter, and Instagram.
Read our latest news, or insights from our blog.
Media contacts
Amy Ovalle, Vice President, Global Communications
[email protected]
415-743-3340
Eelynn Sim, Director, Media & Strategy
[email protected]
415-743-3318
Leaders on the Frontlines:
Leaders for a Better World
Tuesday, November 9, 2021, 6PM PT