Asia Foundation Hosts "Afghanistan Going Forward" – A Conversation with Ambassador Karl Eikenberry
San Francisco, February 8, 2017 — Yesterday, The Asia Foundation hosted Afghanistan Going Forward, a conversation on the state of Afghanistan's security, politics, the reform agenda, and future challenges to peace and development with former U.S. Ambassador to Afghanistan and Foundation trustee Karl Eikenberry. The conversation was moderated by Foundation President David D. Arnold.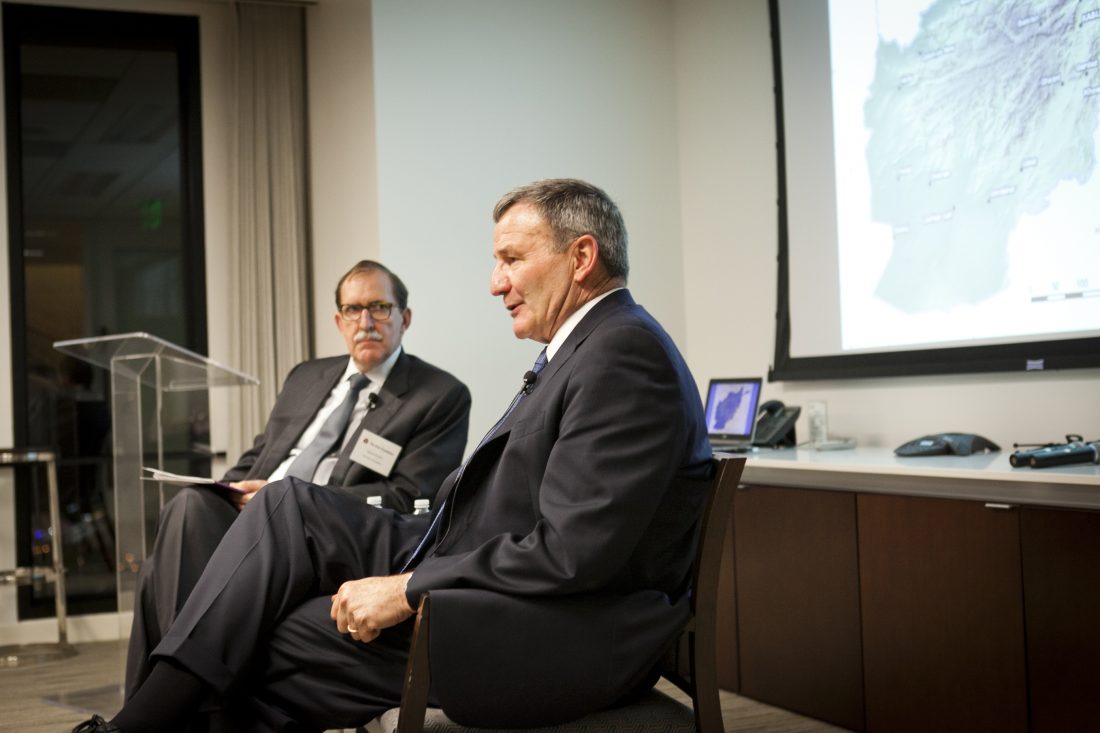 Mr. Arnold introduced Ambassador Eikenberry, who also spent 35 years in the United States Army holding two command posts in Afghanistan. As U.S. Ambassador to Afghanistan from May 2009 to June 2011, he led President Obama's civilian surge, in order to reverse insurgent momentum and set the conditions for transition to full Afghan sovereignty. "2016 was a difficult year for Afghanistan, and looking ahead, 2017 presents unique challenges and opportunities as the Afghan government sets its own course towards peace and stability," said Mr. Arnold in his opening remarks. "This is an important moment to explore how U.S. policy can constructively support Afghanistan's transition."
The Foundation's annual Survey of the Afghan People, the most comprehensive public opinion survey in the country today, helped ground and inform the discussion, as the survey found that national mood has continued to decline due to fears for security, among other factors. "The withdrawal of international troops in 2014 was a shock to security, the economy, politics, and geopolitics," said Ambassador Eikenberry, unpacking the complexities of Afghanistan and the U.S.'s longest war. "However, significant transitions are underway," he continued.
The Asia Foundation has had a long presence on the ground in Afghanistan, from 1954 to 1979 and from 2002 to present. With a long history of planning and implementing effective programs that benefit the country and its citizens, the Foundation maintains strong relationships with local partners working areas such as governance and law, women's empowerment, education, and regional cooperation. The Foundation's latest report, Afghanistan Going Forward: A Policy Assessment to Inform the Next U.S. Administration, reflects insights from a roundtable discussion of high-level U.S. experts on Afghanistan.
The Asia Foundation is a nonprofit international development organization committed to improving lives across a dynamic and developing Asia. Informed by six decades of experience and deep local expertise, our work across the region addresses five overarching goals—strengthen governance, empower women, expand economic opportunity, increase environmental resilience, and promote regional cooperation.
Read more about the Foundation's work.
For media inquiries, please visit our Press Room. Engage with us on Facebook, Twitter, and Instagram.
Read our latest news, or insights from our blog.
Media contacts
Amy Ovalle, Vice President, Global Communications
[email protected]
415-743-3340
Eelynn Sim, Director, Media & Strategy
[email protected]
415-743-3318
2020 Annual Report
Addressing the global crisis