Asia Foundation Releases Paper: Online Platforms as Drivers of Inclusive Growth
Bangkok, February 20, 2017 — The Asia Foundation today announced the release of Six Stories, Six Paths to Development, a new white paper that explores the impact of online platforms in addressing Asia's development challenges. Developed with the support of Google, the white paper highlights the many ways that online platforms are contributing to development outcomes in the Asia-Pacific. The Asia Foundation held a kickoff event in Bangkok, where a panel of experts from Thammasat University, Thai Netizen Network, HUBBA co-working space, and the local platform startup Seekster came together to discuss how online platforms have emerged as a new mechanism for promoting inclusive growth in the region.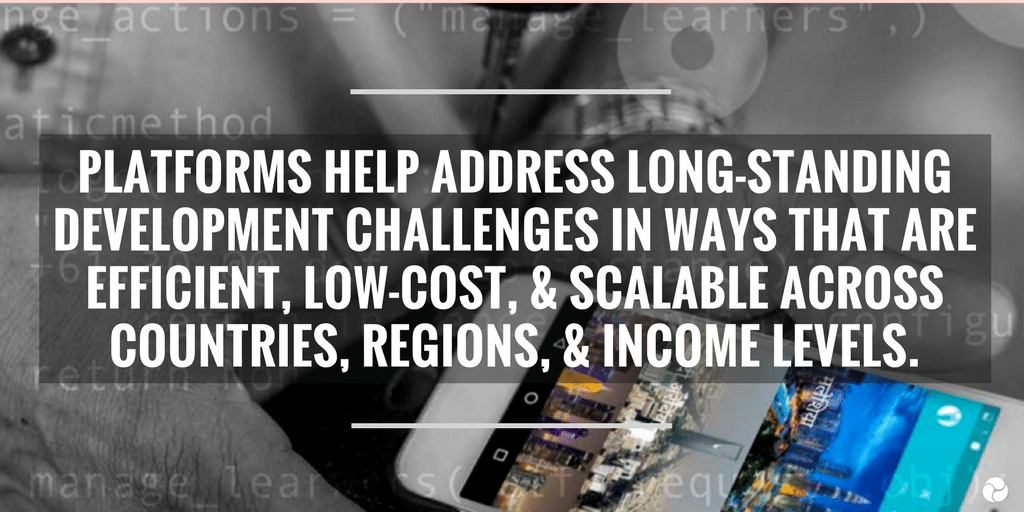 Announcing the release of the paper, John Karr, senior director for Technology Programs at The Asia Foundation, said: "Online platforms are helping improve the lives of people in Asia; over a billion people will be using these tools in 2020. Our white paper highlights six areas where this is happening in Asia, and provides policy advice for decision makers on how to encourage more entrepreneur-driven platform growth in the region."
This paper identifies six specific ways that platforms contribute to inclusive growth and the global sustainable development agenda: growing micro, small, and medium enterprises (MSMEs); enabling financial inclusion; supporting small farms; building human capital; engaging women in new ways, and promoting green growth.
In addition to analyzing the economic and social impact of online platforms, the paper highlights stories from individuals across Asia who are already using platform-based tools to improve their livelihoods and strengthen their societies. These include Rajesh Vujel, a Nepali migrant worker in the Middle East, who uses mobile apps to track exchange rates, find banks and service providers, and learn how to manage his money better. Others, like Sushma Mahabala from Bangalore, use online platforms to conduct more effective and informed advocacy work on behalf of their communities.
The paper provides a set of four recommendations to policymakers, development actors, and regional and national leaders:
Support infrastructure investment efforts to increase internet access and affordability;
Promote digital literacy for a more inclusive online environment for the one billion individuals who will access the internet for the first time during this decade;
Create an enabling environment for platforms and users by supporting open broadband, access to finance, payment digitization, and the free flow of data;
Conduct coordinated research and engagement on the impact of platforms on development in the Asia-Pacific.
The Asia Foundation is a nonprofit international development organization committed to improving lives across a dynamic and developing Asia. Informed by six decades of experience and deep local expertise, our work across the region addresses five overarching goals—strengthen governance, empower women, expand economic opportunity, increase environmental resilience, and promote regional cooperation.
Read more about the Foundation's work.
For media inquiries, please visit our News Room. Engage with us on Facebook, Twitter, and Instagram.
Read our latest news, or insights from our blog.
Media contacts
Amy Ovalle, Vice President, Global Communications
[email protected]
415-743-3340
Eelynn Sim, Director, Media & Strategy
[email protected]
415-743-3318
Change Starts Here Campaign Impact
Thank you for powering The Asia Foundation's mission to improve lives and expand opportunities.